Most people in the film industry have a side venture or business to fall back on just incase. This trend began with tinsel town aka Bollywood and now our Pollywood celebs are also catching. Be it fashion, make-up, hair-related products or eateries even; most Punjabi personalities have their own ventures. Also Read: Jordan Sandhu Gets Married! Here Are All The Pictures!
Just like everyone else, Jaspreet Singh aka Jass Bajwa also has his investments in place. Recently, the singer introduced two new trucks in a transport company in Ohio, USA.
The company Speed1 Transport is a new business for Bajwa and he uploaded the pictures of the trucks. His words were, "Waheguru tera lakh lakh shukar a… New business new beginnings…" Also Read: Life & Times Of Sudha Chopra: The Actress Of Yesteryear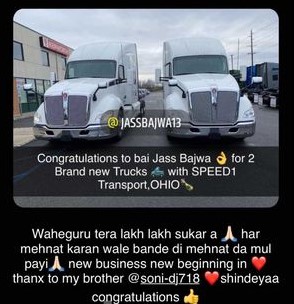 To give you a little background, Jass Bajwa is famous for his albums and songs like 'Chakvi Mandeer (2014)', 'Urban Zimidar (2017)', 'Nose Pin (2016)', 'Veham Jatt Da (2019)', etc.
---
More Article..
---