When someone mentions Punjabis, alcohol surely comes to mind. One of the most used terms among Punjabis is the 'Patiala Peg'. Be it songs or drinking, the term has been used frequently. But do you know the story behind the origin of 'Patiala Peg'? Also Read: Diljit Dosanjh Starrer 'Babe Bhangra Paunde Ne' Film Announced!
And no! We are not talking about Diljit Dosanjh's 'Patiala Peg' but the alcohol measure— which is roughly equivalent to 120 ml. The story goes as such…
Once upon a time, there was an enigmatic personality— he was a fierce warrior, a man with fine tastes. It is said that he had 365 women (queens as well as concubines) in his palace. He also owned more than 10 Rolls Royce cars and the famous Patiala Necklace which had 2930 diamonds including the world's seventh-largest called 'De Beers'.
It is none other than Maharaja Sir Bhupinder Singh who ruled the princely state of Patiala from 1900 until his death in 1938. Also Read: The Song 'Teri Mitti' Is Actually Copied!?
Coming back to the story, the Maharaja had a polo team that consisted of legendary Sikh warriors. In the early 1900s, the Maharaja invited an Irish team which was called 'Viceroy's Pride' for a friendly game of "tent pegging".
For those unfamiliar with this game, tent pegging is a cavalry sport traced back to ancient origins when men on horseback would lance the pegs of the enemy camp's tents to trap the soldier's inside. It evolved to an event where riders charge across a straight course and use a lance to pick up pegs stuck in the ground.
So when the Irish arrived, looking as imposing as their Sikh counterparts, despite their reputation, the home team feared losing the Maharaja's pride. Now the Irish team had a tradition of drinking every night to full capacity and still performing at their best the next day! Looking at this, the Maharaja hatched a conspiracy. Also Read: Baninder Bunny Reminisces His First Film Experience!
Continuing the routine, a night before the competition, a party was held in Patiala; during this, they served double the amounts of alcohol and both teams drank to their capacity. The after-effects of this were not pretty, the Irish were still under the influence and could not perform their best making them lose whereas the Patiala team became famous for their drinking capacity.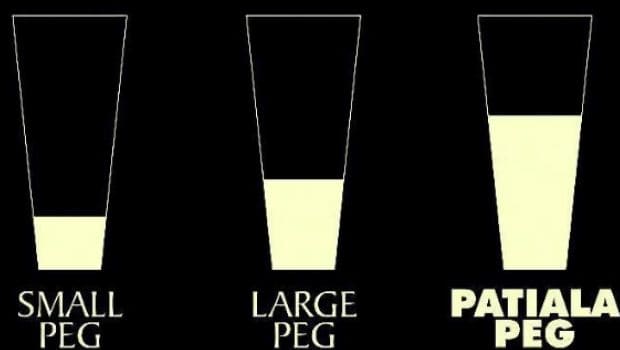 From that day onwards the Patiala peg came to be known for its strong quantity and residual effect which only certain people (and Punjabis) could get a hang of!
---