With on and off horror of pandemic situation, after facing several ups and downs we all have finally closed the 2021 chapter and entered the new year with all new hopes and expectations in 2022. While most of us were partying to welcome New Year some of our Pollywood celebs were busy in their live shows and some seeked blessings of god.
So, let's have a look at the New Year celebrations of our Punjabi artists. Also Read : 2021 Recap: Weddings We Saw This Year!
PARMISH VERMA:
No more Shada Parmish Verma celebrated his new year with his fans and followers as he was busy with his live show. The glimpse of people grooving to his beats was shared by him on his social media handle.
DILJIT DOSANJH:
Our Dosanjhanvala's New Year post for his fans was quite enlightening and his rant was also something we can all relate to.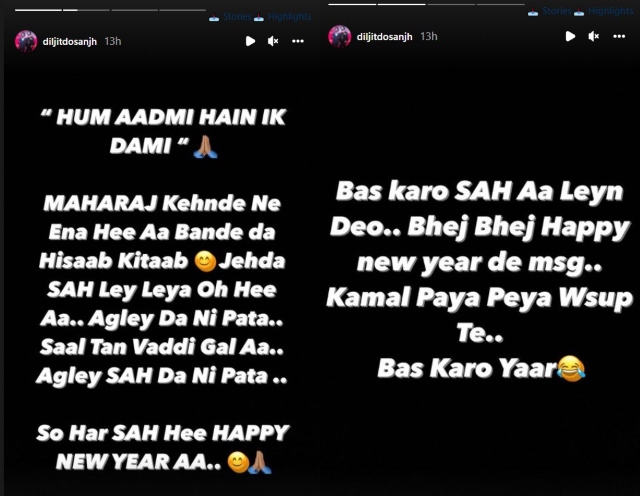 HARBHAJAN MAAN:
Well, Harbhajan Maan visited the holy city Amritsar to seek blessings at the Golden Temple alongwith his sons and Jasbir Jassi. The singer shared the series of photographs from the visit.
AMY MAGHERA:
Amy Maghera who is known for her role in super hit movie 'Goreyan Nu Daffa Karo' got engaged to the love of his life. The update was shared with mushy pictures on the social media handle.
ARMAAN BEDIL:
It was a working New Year's eve filled with enjoyment for Armaan Bedil as well who was busy with his live show. Also Read : Peed Tere Jaan Di : Taj Announces His Next Directorial On New Year!
SHARRY MAAN:
Sharry Maan treated his fans with a combination of selfie and a quirky caption as a New Year wish.
KHAN SAAB:
Khan Saab's New Year wish was filled with simplicity and purity as he can be seen reading the book and remembering singing maestro Nusrat Fateh Ali Khan. Also Read : Here's The Official Release Date Of Hardeep Grewal's S.W.A.T Punjab!
GURNAZAR CHATTHA:
Gurnazar Chattha too treated with a supercute photograph with his mother and wished his fans and followers for the new year.
NEHA KAKKAR & ROHANPREET:
The cute couple #Nehupreet had a busy and working new year's eve but missed each other a lot so thus posted a super adorable post dedicating each other. Also Read : 'Shooter' Film Finally Has A Release Date!
Well, this was all! How did your new year go? Do let us know in the comments section.
---