There are some film subjects, which have a universal appeal. While Hindi films do get inspiration from South and Hollywood Films, however, there are instances (even though rare), where Hollywood got inspired from Indian Films. There have even been some Hindi blockbusters that were remade in the south and other Indian language industries.
A Rajasthani Film 'Bai Chali Sasariye' was made in 1988, in which Upasana Singh played the lead role opposite Alankar Joshi. The film also had Neelu Vaghela (the famous TV actress known for her mother-in-law role of 'Diya Aur Baati Hum'), Jagdeep and Lalita Pawar in it. 'Bai Chali Sasariye' was one of the big hits of Rajasthani Cinema. Also Read: Did You Know About Simi Garewal's Only Punjabi Film!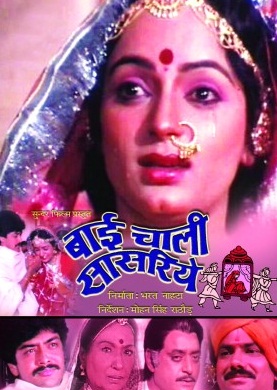 Then a Telugu Film and a Marathi Film were made on the same subject. Both the films did well; the latter was a big success in Marathi Cinema at that time. Also, a Hindi Film 'Sajan Ka Ghar (1994)' got inspired by the same subject. It had Rishi Kapoor and Juhi Chawla in lead roles. 'Sajan Ka Ghar' also was a box office success. Even a Bhojpuri film was remade.
But do you know a Punjabi Film was also inspired from it?
'Simran', a 2010 Punjabi film was inspired by such a subject which had been initially adapted by other regional languages. Also Read: Aww-dorable Toddlers Of P-Town Celebs Who Keep Winning Our Hearts!
The basic plot of the movie revolved around a girl, whose mother dies during childbirth. For this very reason, her father starts disliking the newborn girl. But right after her birth, he suddenly became a rich man and married another woman. The stepmother is also rude toward her. The girl grows up and gets married, but is mistreated by her mother-in-law. The film has a sorrowful ending, i.e. with her death (Though the Punjabi Film 'Simran' had a happy ending in it).
Saadhika Randhawa played the title role of 'Simran' opposite singer Surjit Khan, while Guggu Gill played the role of her father. Released in 2010, 'Simran' was directed by Darshan Bagga. Unlike other successful remakes, 'Simran' failed at the box office. Also Read: Bollywood Celebs Who Turned Punjabi Brides On Their Big Day!
Have you seen the film? If not, watch it here:
---