Yograj Singh, the cricketer turned actor made a career in Pollywood and is a famous name now, but how many of you know his story?
Singh played only one Test and six ODIs for India as a right-arm fast-medium bowler but then due to an injury, he had to retire. But then how did he enter the acting field? Well, continue reading to know the whole story! Also Read: Exclusive: Mansi Sharma's Side Of The Story On Her Recent Controversy!
After an injury, Yograj Singh then an aspiring cricketer could not get back on the active cricket field for some reasons. Then he got to meet with Actor-Director Veerendra, after which, Yograj decided to get into acting.
He made an impressive debut as a side villain in the 1983 film, 'Batwara' but just like any other actor, he wanted to do heroic roles and luckily, he had just gotten the chance to play one of the main leads in 'Yaar Gareeba Da (1986)' co-starring Daljit Kaur, Satish Kaul, Geeta Behl, Vijay Tandon, Jeetu Bedi and Mehar Mittal.
Then in the same year, 1986, another project came his way. This was the film 'Jatt Punjab Da', which was to be directed by K. Pappu ( also known for the direction of major Punjabi Films like 'Jigri Yaar' and 'Uccha Dar Baba Nanak Da' and producing and directing Hindi Films like 'Izzat Ki Roti', 'Raghuveer', 'Dhai Akshar Prem Ke', 'Daag The Fire', etc ). Also Read: Honey Singh Gets UAE Golden Visa!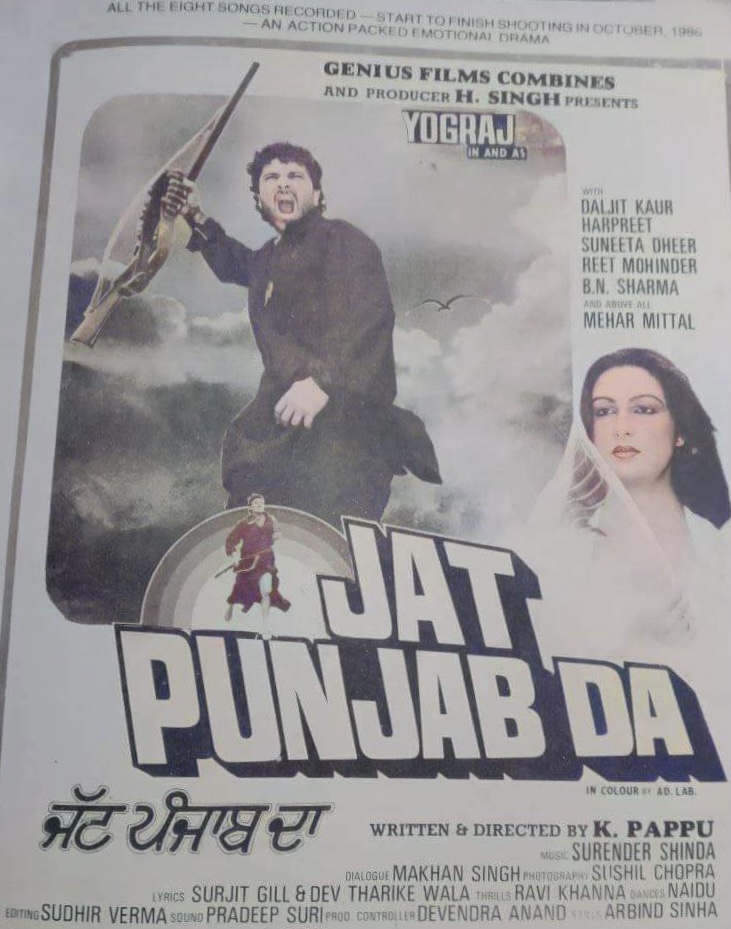 The film, 'Jatt Punjab Da' had one of the best teams working on it, which included 'Ek Chadar Maili Si' fame writer Makhan Singh as one of the co-writers along with its director K Pappu. It also had Daljit Kaur, Sunita Dhir, BN Sharma and Mehar Mittal in leading roles along with Yograj Singh.
However, it wasn't all jolly, while Yograj's film 'Yaar Gareeban Da' lacked a proper release; 'Jatt Punjab Da' got shelved after a few days of shooting. The reason behind this was revealed by Neena Sidhu, wife of Yograj. She said, "A Patiala-based producer (H Singh) backed out and the film was shelved". This fallout resulted in Yograj Singh going back to negative roles in the subsequent films like 'Jatt Te Zameen (1987)' and 'Anakh Jattan Di (1990)', along with others.
Another actor with a similar story was Guggu Gill, who had done negative roles to begin but then managed to establish himself as a leading hero with the success of 'Anakh Jattan Di'. But due to a feud between Gill and Yograj, the latter refused to star alongside him in future villain roles! Then after a minor success with 'Jagga Daku (1991)', Yograj then decided to move forward with hero roles only. It also encouraged him to revive his shelved project 'Jatt Punjab Daa'. Also Read: Wow! Karan Aujla All Set To Launch 'Hukam Clothing', His Own Clothing Brand!
The story goes such that producer Lakha Singh had reached out to Guggu Gill for a film, but he could not commit himself for the film for some reason. Then Lakha Singh went to Yograj, who instead of doing a film on Lakha Singh's subject narrated him the story of 'Jatt Punjab Daa'. "I liked his subject and decided to go ahead with Jatt Punjab Daa", says Lakha.
So the film was once again in the making. While Yograj Singh, Daljit Kaur and BN Sharma remained in the film, from the actors and technicians to the director and music director, everyone got changed. Neena Sidhu also added that "Initially Sunita Dhir was to do the film. But when the film was revived again, I played that role opposite Yograj ji."
But this film is important for Yograj because he was not just the lead actor, Yograj Singh decided to turn Director with 'Jatt Punjab Daa'. In fact, the film credits mention him as a writer of the film too (While we have been told he had revived the same film which was initially written by K Pappu and Makhan Singh). Even while restarting the project, the crew faced difficulty, "As I turned producer with this film, the previous people associated with it filed a case against me. Ultimately Yograj put the end to the dispute after a settlement with them", says Lakha Singh. Also Read: Did You Know Jasleen Matharu's Father Did A Lead Role In This Punjabi Film?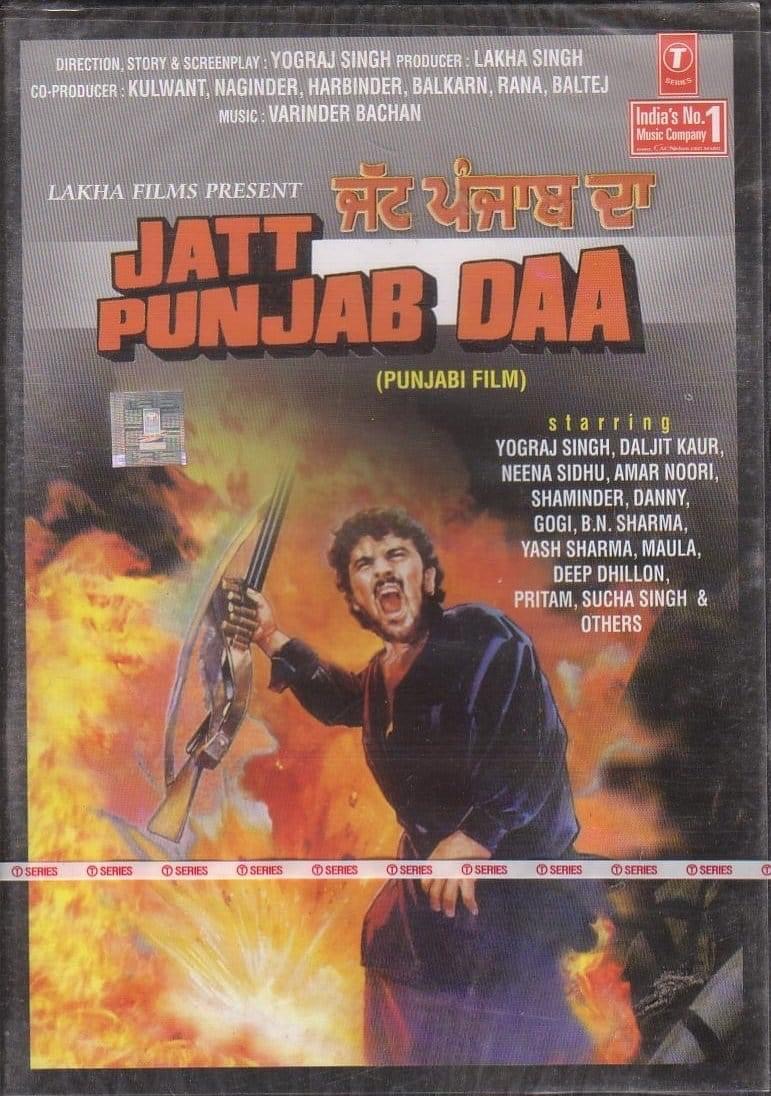 The locations for the film were areas near Rajasthan and even some parts of Panchkula. Did you know that the film was almost shelved again!? But luckily, they went ahead with the project.
Lakha Singh shared the success of the film saying, "For that time period in the 90s, it had the best team. Daljit Kaur was very helpful and was not money-minded at all. Neena Sidhu was very gracious. Deep Dhillon, Shavinder Mahal, Amar Noori, etc were very supportive. It was one of first film of BN Sharma. It had grand action direction for its time for a Punjabi Film with Bomb blast scenes. It cost me 22 lakh rupees to make this film.
Upon release, the film was appreciated by all. Released on six prints in 1992-93, its opening day collection was twenty-five thousand. It had broken the opening day record of a previously released big hit Punjabi Film. The film ran for over 50 days in Punjab. While distributors and cinema owners made money. But even after selling all the video rights, I faced losses. I was quite new to the film industry and could not understand the market. I was told the film was too emotional to sustain further. But I tell you it was in big demand on VCR, I wish I had taken Gurdas Mann instead". Also Read: Who Is Tanu Grewal, The Punjabi Model All Set To Make Her Acting Debut?
After facing losses with 'Jatt Punjab Daa', Lakha moved into making small short social-comedy films (a few of these films had Sudesh Lehri in them) even though he had ideas for bigger film projects. Then later, he couldn't push them due to health reasons.
The final released film, 'Jatt Punjab Daa', was a family action revenge drama with ingredients of romance, action, comedy and emotion starring Yograj Singh, Daljit Kaur, Amar Noori, Neena Sidhu, Yash Sharma, Deep Dhillon, B N Sharma, JS Gogi, Pritam Singh Bhalla and Shivendra Mahal.
Talking about Yograj Singh, most of his films from the period were panned by the public and critics. But 'Jatt Punjab Daa' was an exception for its artistic approach to the subject. While Yograj Singh managed to revive his ambitious project which was dedicated to his mother, its producer Lakha Singh could not get his due in the industry, which is already infamous for playing tricks with producers.
For all the fans, here's some more trivia about 'Jatt Punjab Daa'! Also Read: Warning Review: As Expected, Prince KJ Steals The Show!
Trivia:
1. Previously launched in 1986 with different producers and directors, it was revived in 1992.
2. Producer Lakha Singh had also acted in the film.
3. Film was wrapped in 40 days.
4. When planned Mehar Mittal was in the film, upon revival his part was scrapped.
5. Film was made in the budget of 22 lakhs, the highest for any Punjabi Film of that time.
6. Film ran for over fifty days and got a record opening, but was profitable for distributors and cinema owners only.
7. Surinder Shinda was to do the music, Varinder Bachan finally did it. But film had one of most popular songs of Surinder Shinda "Babeya De Chal Challiye"
8. Sunita Dhir was being considered for the film again, but she had already switched to character roles. Neena Sidhu replaced her.
9. K Pappu who was to direct 'Jatt Punjab Daa' in 1986, made it in Hindi as 'Raghuvir' with certain changes with Suniel Shetty, Shilpa Shirodkar, Suresh Oberoi and Gulshan Grover.
10. One of the songs, "Main Jaana Badi Door" was sampled from Subhash Ghai's Karma's 'Na Jaiyo Pardes'.
---