Diwali, the festival of lights is all about festivities, positivity and hope. After comparatively subdued celebrations last year, we are having everything in place slowly and steadily and so are the festival celebrations. Just like everybody the grand festival was enjoyed by our favorite artists as well but this time it was even more special. While some of the Punjabi artists dedicated the festival to the farmers protesting against the farm laws whereas some of them went to the border for celebrating the occasion with the farmers.
Well, that's worth appreciating! Isn't it? So, let's have a look at your favorite celebrities celebrating it with their family. Also Read : Pollywood Artists Who Are Hardcore Pet Lovers!
ZORA RANDHAWA:
Popular singer Zora Randhawa went to Darbar Sahib, Amritsar to seek the blessings from almighty. With a heartfelt caption, he posted a couple of photographs from the Golden Temple.
NINJA:
Ninja has been sharing lovely photographs with his family lately. Now on the occasion of festival of lights, the singer distributed food as a noble deed to poor people and shared a beautiful photograph with his wife.
HARRDY SANDHU:
The heartthrob and very handsome Harrdy Sandhu shared a supercute photograph with his wife, Zenith and wished his fans and followers. Also Read : Here's A List Of Evergreen Punjabi Folk Songs!
PREET HARPAL:
Preet Harpal dedicated this Diwali to the farmers and made a rangoli of 'I Support Farmers' and lightened deepaks around it.
BABBU MAAN:
Babbu Maan also extended his support by visiting farmers at the Singhu border. The photo of the singer had also gone viral on social media.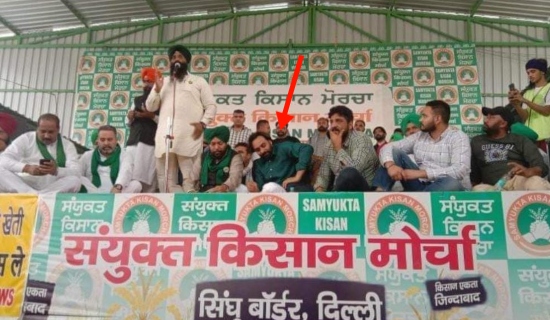 TARSEM JASSAR:
Singer-actor Tarsem Jassar we know has always been very vocal about his opinion towards the farmers protest and so was his post and caption caption on Diwali too. Take a look!
RESHAM SINGH ANMOL:
Well, we know Resham has been an active supporter of the farmers protests from the very starting. On the special occasion of this beautiful festival he shared a series of photographs from the border where he wrote an even strong caption which read, "Pura Ek saal hon wala sadde bazurga nu DELHI Border te baithya.......Sadka te nwa saal, Holi , Gurupurab, Rakhri & now Diwali ....Jai Jawan Jai Kisan"
ANMOL GAGAN MAAN:
Singer-turned politician Anmol has proven herself to be more of a fighter who is also one of the another artists supporting the protests. She too shared a series of photographs and captioned it, "roshniyan de tyohaar diwali diyan saarean nu bahut saariyan mubarkaan...waheguru de charna vich sab diyan khushiyan layi ardaas kitti. Delhi dharne te baithe baapu, maanvaan, veer, bhenan jaldi haqq lai ke aapne pind parivaaran vich aaun...dharne te baithe adhyaapkan ate police mulaazmaan naal vi kuch pal saanjhe kitte." Also Read: Lambarhdari: New Punjabi Movie Announced
GURNAZAR CHATTHA:
The very handsome Gurnazar shared a very sweet picture with his mother to extend his wishes.
B PRAAK:
National award winner B Praak shared an adorable family photograph with his wife, Meera Bachan and son Adabb to wish his fans and followers.
PARMISH VERMA AND GEET GREWAL:
Not to forget, our no more shada, the newlyweds Parmish Verma and Geet Grewal shared super beautiful pictures on the occasion. The pictures will surely make you go aww! Don't they? Also Read : All You Want To Know About Parmish Verma's Lady Love, Guneet Grewal!
HIMANSHI KHURANA:
The very beautiful Himanshi Khurana shared a couple of photographs where she was dolled up in a traditional outfit and captioned it, "Happy Diwali". Also Read : Himanshi Khurana Rejected Several B-Town Offers Due To Its Bold Content
GURNAM BHULLAR:
Singer-turned actor Gurnam also shared a happy picture with his parents as they burst sparkler (phuljhadi)
GURU RANDHAWA:
Guru who has become a sensation now with his superhit songs too shared a photograph as he lightened the candles. He seems to be at the Gurudwara as his head was covered with the handkerchief.
JASSIE GILL:
Singer-actor Jassie Gill who is now making his name in the B-Town too shared a photograph of himself as he posed alongside beautiful rangoli. Also Read :
Well, this was our list! How did you celebrate your Diwali and how did it go, you can share with us in the comments section.
---