The trailer of the forthcoming Punjabi release, 'Thana Sadar' was dropped yesterday. The film is directed by Vikram Thori and written by Happy Rode. The movie stars Kartar Cheema and Vikramjeet Virk in the lead roles alongside Hobby Dhaliwal, Mahabir Bhullar, Arsh Maini, Gurmeet Sajjan, Malkeet Rauni and many more in the supporting roles.
The film will release on September 17, 2021. Now, the trailer is out...So, let's go ahead and review it!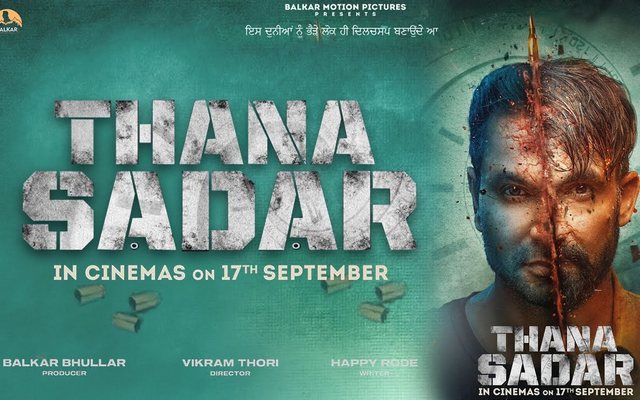 REVIEW:
When the teaser of 'Thana Sadar' was released, we were left wondering what more will be presented in the trailer next. But, to our surprise, the trailer turns out to be happy with good upbeat music. Talking about the genre, we think this one should rather be called Punjabi 'Singham' as the former couldn't do much justice.
Well, now talking about the cast, both the protagonist (Kartar Cheema) and the antagonist (Vikramjeet Virk) are such wonderful actors that even in the trailer they have done such a good job. Both the actors complemented each other. Since, Arsh Maini is a singer his performance has also left us surprised. Also Read : What If We Told You Romaana Got His Stage Name From His Surname!
It is worth mentioning here that the performance by the supporting cast including Mahabir Bhullar, Baljinder Kaur, Malkeet Rauni makes us believe that this one is surely going to be a wholesome entertainer packed with full on action, which we've generally seen in Bollywood but not in Pollywood.

The story of the movie revolves around 'drug mafia' of the state. This subject has been attempted by directors before though, but what makes it different this time are its quirky and hilarious dialogues. The female lead hasn't got much space in the trailer, she will be seen doing an item number but unlike most Punjabi films she is not used merely as an eye candy. We are expecting her to have a fair share of performance in the film. Also Read : We Bet You Didn't Know These Facts About Harbhajan Mann's Son Avkash Mann!
VERDICT:
We think the action sequence could have been little pepped up because in the trailer it looked artificial, but we are hoping this one gets better in the movie. Kartar Cheema has a total heroic entry with the Police force in the background which will remind you of Salman Khan, leaving smile on your face.
Overall, Thana Sadar, from the trailer, looks action packed full on entertainer and we are surely excited about this one. Also Read : Sharat Saxena: 250+ Bollywood Films, Multiple South Indian Language Films and 1 Punjabi Film!
---