Bollywood actresses Sara Ali Khan and Radhika Madan along with singer, songwriter and composer Jasleen Royal have been updating their social media pages during their trip.
The trio can be seen in Ladakh— relaxing and completing their bucket lists while giving us major travel goals. From taking a dip in the river to meditating in a Buddhist temple, they are doing it all!
Sara recently shared a picture of the three of them standing in front of a Gurudwara. The picture, shared on her Instagram story is of Gurudwara Shri Pathar Sahib. Also Read: Neha Dhupia Shares Surprise Baby Shower Pictures- Have You Seen Them Yet?
The Gurudwara, located on the Leh-Kargil road has quite an interesting story about how it came to be. It gets its name from the Pathar (rock) which is kept inside the Gurudwara. The rock is said to have the first Sikh Guru, Guru Nanak Dev Ji's body imprint.
As per the locals— in the 15th century, while Guru Nanak Dev Ji was traveling from Srinagar to Punjab, he came across a demon who dominated the aforementioned area. One night, he decided to stay at the location and the locals sought help against the demon. Infuriated, the demon rolled the boulder towards the Guru while he was deep in meditation. Also Read: Jenny Reacts To Fan Messages, Says Don't Be Disappointed With New Prinka
However, upon touching the Guru, the boulder couldn't hurt him and molded into the Guru's body shape. This made the demon realize Guru Nanak's spiritual powers and he apologized. The rock also has the demon's footprint on it.
Coming back to our trip trio, the picture shared shows Sara standing in the middle with Jasleen on her left and Radhika on the right side. While Sara wore a white dupatta to cover her head, the other two wore blue-colored bandanas. Also Read: Damn! Punjabi Singer Outraged After Page Hack, Says Hacker's Posting Illicit Content!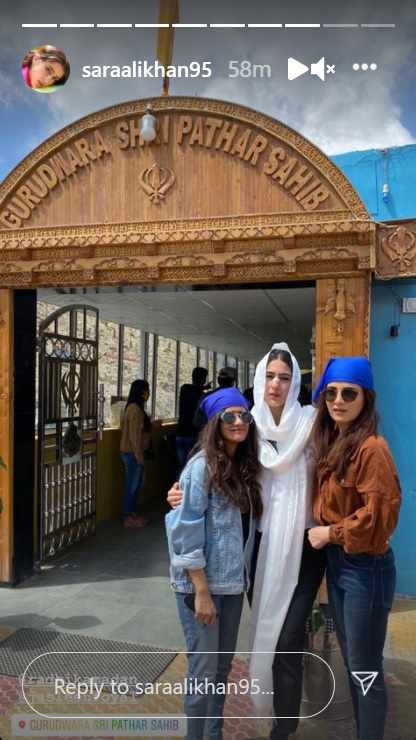 Do their fun pictures also make you want to leave work and go on a trip with your friends?
---