One of the recent stories by popular Punjabi music video director Rupan Bal caught our attention!
In the stories Rupan's words were quite enraging towards somebody's style of working. A post on 28th August literally cracked us into laughter. Sharing a picture of himself in fron of a car in the background of a shoot setup, Rupan quoted, "I thought your idea to use my idea was a great idea."
In a series of stories, Rupan again shared his mind and, in a way sent out clear messages to 'someone'. In one story he shared a clip from Karan Aujla's video and wrote, "If you know you know...eh idea vi great si eh vi eh bad ch dekheya dekheya lagda si lol...great ideas always gets how they say in English 'inspired'..List nai mukdi copy di Dubai na leh jeo menu hun ahahahaha."
In his next story, he wrote, "Haje tah 2 saal hi hoe aa..hune darge oo. Haje te kamban laune aa..nai honi rees.."
The last story was funny and he too was pretty amused by then. He wrote, "Ok I m out..lol had my laughs now back to work."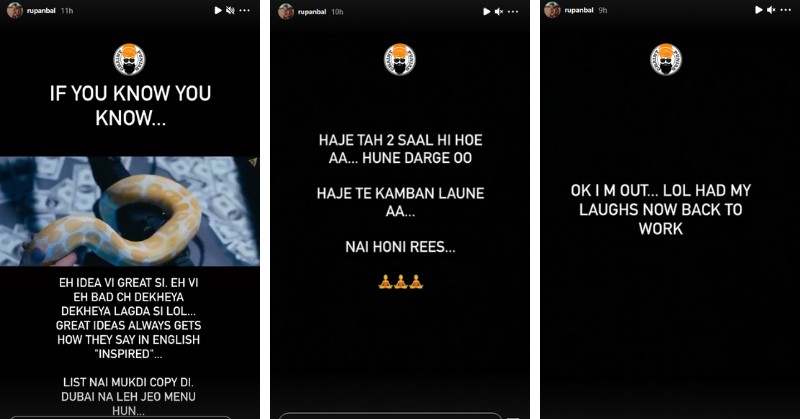 Well..as we know Rupan is one of the famous and successful music directors of Punjabi music industry who has created his niche with his work but just like any other artist he too has people who get 'inspired' by his work.
Do you know the name for the directors he has uploaded these stories for?
---