Referred to by people as 'The Savior Singh', Dr. Surinder Pal Singh Oberoi is a Dubai-based business tycoon. Born in Punjab, Dr.Oberoi started working as a mechanic in Himachal in 1977 and then moved to Dubai for a job. He returned to India in 1981 to start "Pritam Singh & Sons", a company dealing in construction projects. But he went back to Dubai in 1993 to start his company 'Apex Emirates General Trading L.L.C' and his business expanded thereafter. Also Read: Punjab Assembly Pays Tribute To Sidhu Moosewala
However, in 2010 his life changed after he read the news that 17 Indians have been awarded death penalty for a group fighting that led to the death of a Pakistani man. The idea that 17 people were going to be hanged for a single person's death did not sit well with him. So he fought the case to save those people and even won it, but he had to pay 2.2 million dollars from his personal saving.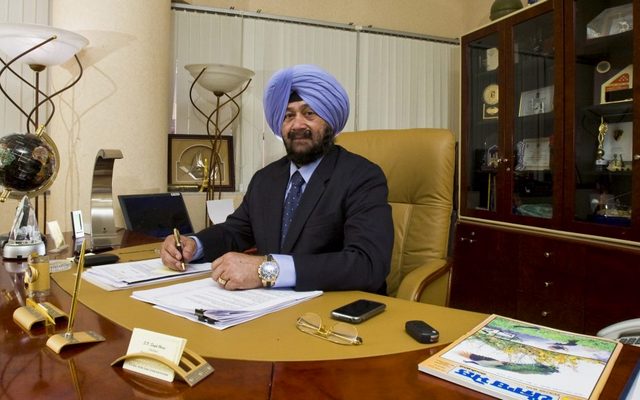 After this life-altering experience, he pledged 98% of his income to the service of humanity and formed his charity 'Sarbat Da Bhala Charitable Trust'. With time, the Trust expanded its areas of operations in Dubai. It began assisting in bringing dead bodies back home and rescuing girls stuck in the Gulf region. Till now, the Trust has successfully brought back over 80 dead bodies and rescued five girls while it fights for the rescue of 105 more. Also Read:FIR Registered Against Punjabi Actor Rana Jung Bahadur For Hurting Religious Sentiments
The trust has helped people from all spheres of life be it specially-abled children, women or even underprivileged people. They even provide pensions and infrastructural, developmental and monetary supports to schools and institutions. Dr. Oberoi has received various awards like the 'Punjab Ratan Award' for his humanitarian services.
Oberoi's life motto is, "Do all good, by all means, to all the people, as long as you can."
Now, Bollywood director Mahesh Bhatt who has directed movies like 'Aashiqui' (1990) and 'Sadak' (1991) has announced that he will be directing a movie based on the life story of our Savior Sikh. Now, as per the latest updates, Ajay Devgn has been roped in for essaying the role. Also Read: Saga Studios Take Tough Stand Against Cinema Mafia-Here's How?
Comment below and tell us what you think about this story!!!
---