They say 'pets are humanizing' which is actually so true. A part of you always remain with them and when they are separated we are no longer the same.
The pain of a pet's demise actually feels like a loss of a closed family member. Well, today singer Garry Sandhu is also going through similar pain as his pet dog 'Rambo' has left for his heavenly abode.
Garry shared an adorable video where Rambo can be seen playing cheerfully and captioned it as, "RIP Rambo".
In another post shared by 'Do Gallan' singer reads, "Jana ta sab ne aaa jihda janda ohnu pta Es dukh da .. ah video vich mera bahot kuj si jehda mainu kadey dubara nai milna.. meri sab nu ehi slaah te benti aa family dubara nai mildi jinna vi time te pyaar apnya nu de sakdey jarror devo.." where Garry can be seen playing with him. Also Read : Singer - Actor Gitaz Bindrakhia Shares An Emotional Post On The Demise Of His Cute Pet!
Not only this Garry went on to post a picture on his Instagram story where he can be seen carrying his pet and wrote, "RIP Rambo"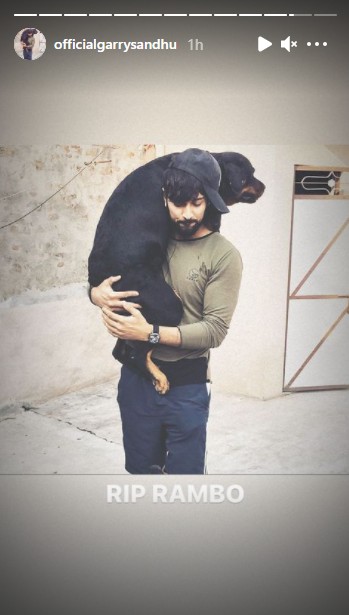 Of course, when you own a pet they tend to become a part of your family and their death also feels so personal. Also Read : Legendary Sprinter Milkha Singh Passes Away, Nation Mourns Over The Loss
Well, we really wish Garry gets immense strength to bear this loss and may the departed soul rest in peace!
---