Bollywood actor Kangana Ranaut never fails to grab headlines for one or the other reason. Over the past few days, she has been making headlines owing to her passport renewal. Recently, Kangana returned from Manali and had to approach the Bombay High Court for the renewal of her passport, which is scheduled to expire in September, claiming that the passport authorities have refused to do the same on account of the FIR registered against in the Munawar Ali case.
After this, the actress appealed to the Bombay High Court in the matter for an urgent hearing. However, after one hearing, the court on Tuesday adjourned the case and had given her the date of 25th June for the next hearing. But the actress was looking for an urgent hearing as she needed the passport to travel for the shooting of her upcoming film. Also Read : Finally! Cinemas Are Now Open In Punjab - Here's What All Has Opened & What Not
Now, if reports were to believe, the Bombay High Court refused an urgent hearing calling Kangana's plea and application as 'vague' and place all relevant facts on record.
Not only this, as per one of the news portals, the court has said that 'It is just a film. The schedule can be changed. She should have been more vigilant. If there was urgency, she would have approached you with all the details. Your application is vague. It is just a matter of one week, a film production takes over a year. June 25 is the earliest date we can give.' Also Read : Actor Kangana Ranaut Stirs Another Controversy In Yami Gautam's Recent Pictures, Netizens React!
Now, Kangana taking a dig at actor Aamir Khan made a reference to Aamir's 'intolerance' remark from a few years ago.
Sharing a screenshot from her posts on her Koo account on Instagram, she wrote, "Please note when Aamir Khan offended the BJP government by calling India intolerant no one held back his passport to stop his films or shoot in no way he was tortured or harassed."
She went on to claim that she is being indirectly harassed by the Maharashtra government. "Mahavinashkari government has started my indirect harassment again. My request for passport renewal has been rejected because a tapori/roadside romeo called Munnawar Ali filed a sedition case (deshdroh case yes the irony of it is hilarious on me) by the way the case was almost dismissed by the court yet the court rejected my request for passport and the reason given is 'my request is vague' hmm," read Kangana's post on Koo. Also Read : These Shots From Diljott's Latest Photographs Are Our Favorite!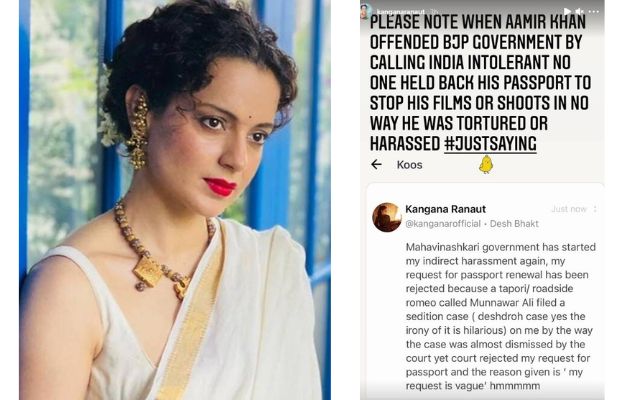 ---