We always talk about celebrating love and friendship but at times it is also betrayal that one gets. Well, singer Bannet Dosanjh's latest sad -romantic 'Farak Pe Gya' has released on 'BIG STUDIOS' and it is said to be the best sad song by its makers.
The vibrant video is shot in an Abhipur college campus in Punjab. The song is shot on the college backdrop featuring Jasleen Arora & Vihaan under the direction of Last Page. The concept revolves around a love triangle that evolves from friendship into love and then finally deception, a subject with which today's youth can totally relate to.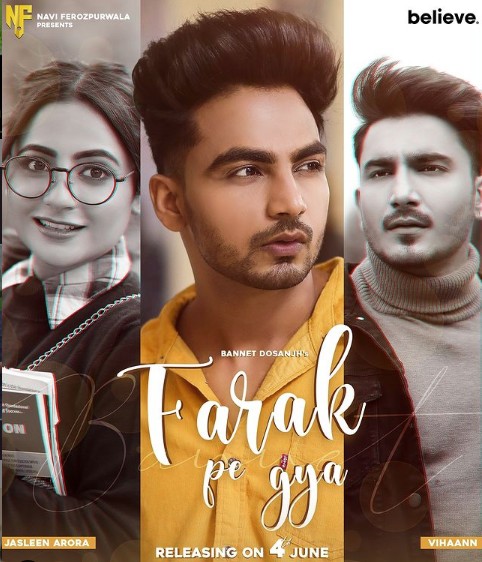 The song is penned and composed by Navi Ferozepurwala who is known for superhit songs like 'Wakhra Swag', 'Mittran De Boot' and many more. This time also Navi was able to create magic with his pen and prove his versatility.
Bannet has a really beautiful and soulful voice and the music and composition of the song is like an icing on the top making it really heart touching.
We loved the song and thought of talking to Bannet about this amazing project. Talking exclusively to Ghaintpunjab, Bannet revealed that he was a signed artist since the last 2 years but his label was not doing any project with him.
So, one day the lyricist of the song, Navi Ferozepurwala, who has also been a constant support throughout, approached him and asked him to record the dummy for a song. Navi further said, "We went to a lot of music producers but we could not get the desired output. Finally, one day we were able to create what we wanted and worked upon the minutest details. After getting a nod from everyone we planned the song and video was also shot immediately. So, I think right things do take time, but happen whenever they are destined. Also Read : Who is Rabia Sidhu - Check Out Her Hot Pics Inside!
Infact, we delayed the song 2-3 times owing to the pandemic but one day when I went to Navi bhaji's place, he asked me to share the poster then the song was also released after a couple of days. Earlier we were a little apprehensive and thought characters will not be established but after it got shot, I think it was beautifully made."
---