Actress Nikki Tamboli who had lost her brother Jatin Tamboli on May 4, wishes for her parents' strength during these tough times. On Wednesday, Nikki shared a picture of them on her social media account and wrote an emotional caption. She wrote, "Dear God, please give them strength. Hope I make you both more and more proud day by day & I'll try to keep this smile on your face throughout...I have no idea how my dad is dealing with all this as he had major two loss… 14 days back his mother passed away and now his son. I pray & give all my strength to my Dad & mom"
Nikki Tamboli had also posted an Instagram story while mourning for her late brother. She shared his picture and wrote a heart-wrenching note saying, "Death is nothing brother it's life that's hard...But you fought it till the end...It is very very difficult to live without you. All the memories come back but you don't."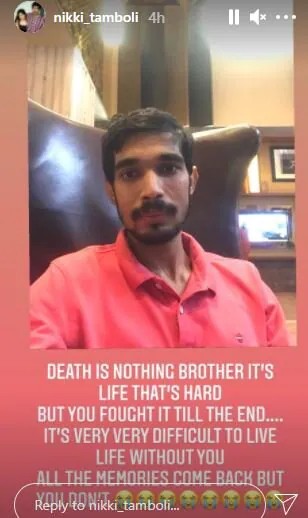 On Tuesday, Nikki Tamboli had shared the news of his brother's demise. Sharing a few pictures of her brother on her Instagram handle she had captioned it, " We didn't know that this morning god was going to call your name..In life we loved you dearly….In death we do the same…It broke our heart to lose you….You didn't go alone…..For part of us we went with you…..The day god called you home…..You left us beautiful memories….Your love is still our guide", read an excerpt from her post. Also Read : Veteran Actor Sriprada Passes Away Due To Covid 19 Complications!
Nikki Tamboli's 29-year-old brother Jatin was diagnosed with COVID-19. He was also battling tuberculosis and pneumonia. Also Read : Asaram Bapu Rushed To ICU After Being Tested Positive For Covid 19
Well, the pain is real. Even we wish god give immense strength to her parents to bear this loss.
---