A man named 'Sachin Grover' has been booked for allegedly cheating through WhatsApp on the pretext of giving work to makeup artists and models in the name of Dinesh Auluck, the managing director of the famous Punjabi music record label 'Speed Records'. As per police investigation, the accused was also declared a 'Proclaim Offender' a while ago.
The accused has admitted to the police that he has looted lakhs of rupees from people including a Congress leader whom he had promised that he'll take his son to England. Not only this, he has also cheated in the name of supplying oxygen and vaccine. Police of Thana city have registered a case and have arrested him in the cheating case. An investigation is underway. Also Read: PM Narendra Modi Visits Sis Ganj Gurudwara On 400th Birth Anniversary Of Guru Teg Bahadur Ji
DSP sub division Surinder Singh said that a complaint was filed by Dinesh Auluck stating that his office is located in Kapurthala, Jalandhar and Mohali. For the past one year, a man named Sachin Grover had been duping young artists on the pretext of releasing their tracks on Speed Records. Not just this, he's also received lakhs of rupees to promote modelling and make up projects for which he had formed a group on social media. The artists used to get lured by his offers and send money to the given account. The accused has two addresses, one in Kapurthala and the other one in New Delhi. Also Read : Legendary Couple Dharmendra And Hema Malini Compelled To Stay Apart!
After receiving the money, Sachin used to turn off his mobile phone. Therefore, Dinesh himself tried to reach the core of the case and caught Sachin after which he was handed over to the police. When the police started the investigation, several other cheating cases associated with Sachin came into the picture. Till now, the police are investigating the amount of money he has made due to conning. Also Read : Drishtii Garewal Is All Set To Marry Her Long-Time Beau Abheyy Attri!!
Sachin used to find and contact makeup artists and women through Facebook. Entire affair was exposed when a makeup artist made her Whatsapp chat with Dinesh Auluck (Sachin Grover) public on Facebook's 'Notice Board Jalandhar' page.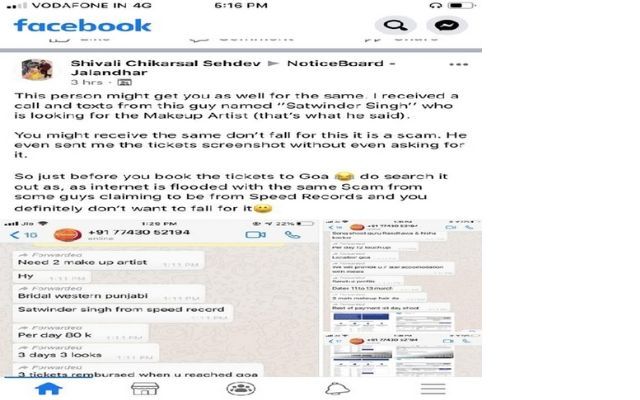 Sharing the same news on the official page of Speed Records on social media they announced, "The man behind all the scam is now arrested by the police. Anyone who has been fallen into its trap can contact on the number given on the creative @dineshauluck".
This is not the first time that such an incident has happened. Such cases are very regular when it comes to the glamour industry as youngsters who are looking for easy name and fame are prone to believing such cons.
---