Vivek Saini is a budding actor from Chandigarh who marked his acting debut in Bollywood with a superhit film 'Kesari' as Sipahi Jiwan Singh in the year 2019. He has worked as an Assistant Director for Punjabi movies including 'Munde Kamaal De (2015), Ishq Brandy (2014) and Kala Shah Kala (2019). Not only this, he has directed several ads for global brands like Facebook, Google, Mahindra and several others. So, in relatively newer career span, he has done some brilliant work and we thought of talking to him to know him better. And he was sweet enough to share his views and experiences throughout.
Here Are The Excerpts From Our Special Interview With Vivek Saini
First of all, tell us a little about your family background.
I was born and brought up in Chandigarh. I did my graduation in commerce from D.A.V. college and then post-graduation in Journalism and Mass Communication from Panjab University. It was during the last year of my graduation when I got myself enrolled in a theatre group and started doing stage shows and plays. In the year 2015, I shifted to Mumbai and switched to ads but my theatre journey (Kahaani sunoge) is also going on simultaneously.
Has the pandemic affected your work too?
Yes, actually after covid we started doing plays online because everybody was confined to their homes. We came up with the idea of online plays and all our stories are available online which one can easily find. Everybody in my group would sit at home and prepare an episode of 15-20 minutes and put it on digital platforms like Instagram and YouTube. That's how we kept working.
What do you like the most - Acting or Direction?
I have always aspired to be a part of the film industry but getting your first break is not easy in B-town thus I tried my hands at direction. Since I am not from a film background so this was just to enhance my skill set. As a matter of fact, I have even written films for an OTT platform, two in Punjabi and one in Hindi. On the other hand, I have directed some theatre plays as well and have worked for stage shows. Other job roles that I have explored are that of being a diction coach for Shahid Kapoor's 'Jersey' and more.
Since you don't have any acting background and normal middle-class families have some apprehensions towards the industry. How was your family's reaction?
I feel lucky because my parents have been very supportive throughout. They were already prepared for this since the day I started doing theatre and stage shows. They had no apprehensions and have always been very positive about my career choice. Talking about the risk involved, there's even a risk when one starts a new business venture. Its just that the film industry being a glamorous industry, everything related to it is a little too over exaggerated.
Has studying journalism helped you?
I actually wanted to study mass media. As a student I never wanted to get into journalism but you certainly get to know a lot about what's happening around you which in turn lifts your confidence. I think studying journalism has been a great learning experience.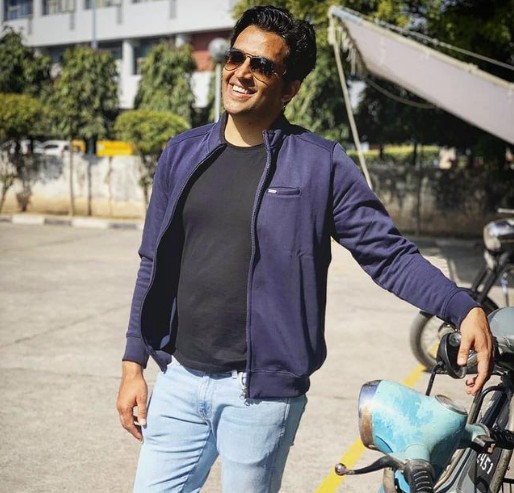 How did Kesari happen?
Actually, I and Mrs. Madhurjeet Sarghi (wife of Anurag Singh, Director of Kesari) do stage together and she is a wonderful artist. We do rehearsals and preparations together for stories and plays which is how I got to meet Anurag Singh a number of times. Since, I had worked a lot in direction so when his movie was announced I expressed my desire to assist him for Kesari. Luckily, he said, let assistance be, I would like to test you for a role!
Soon the auditions happened and within a month, I was finalised for the role.
Working with a big name like Akshay Kumar is in itself exhilarating and that too for such an important chapter from Sikh history. How was the pressure? What special preparations did you undergo?
For the preparations, since the movie was made under a big production house and they could afford it, so we got a one-month workshop prior to the shoot for the action sequence. By the time we went for the final shoot we were fully prepared.
Talking about the working experience, it was good because most of our team members were Punjabi. I stay in Mumbai but belong to Punjab so I always have that connect with Punjab. After a certain point of time, I started to feel like we are shooting a Punjabi movie (laughs). If we don't look at the scenes, the entire vibe is totally Punjabi. We used to speak in Punjabi; even Akshay paaji used to converse in Punjabi so it was a total Punjabi environment.
Your character Sipahi Jiwan Singh had shades of comedy and seriousness, how did you manage to emote so well? Here, I am reminded of the scene where your hair opens up during a fight sequence.
When I got the script and we already had 7-8 days of the workshop too, I went through my role. I prepared a backstory of the character. Even now I am working on a story, where I have prepared a backstory. It is not given by the writer or the director, it is the actor who needs to work upon it. So, when I got the role of Jiwan Singh I prepared the story revolving around his life. Once that is done, it is not very difficult to emote.
Akshay Kumar is one of those artists who is known not only for his acting skills but also for his real life decorum. Did you ever feel lazy on the sets?
No, rather it was vice versa in my case because it was my first movie and I had so much excitement (giggles). We generally used to sleep by 8:30 because we were to wake up at 4 in the morning. The place where we were staying was 1 hour away from the shoot location and the make up and costumes used to take 1-1.5 hr so by 4-4:30 we used to leave our hotel rooms. In fact, we had this competitive spirit as to who is going to reach first on the sets amongst us all.
It is unbelievable that even after reaching at the helm of his career Akshay Kumar follows such a strict regime.
That's probably the reason for having such a successful career. In addition to that, our entire film was shot only during the day, the reason for which is that in olden times, evening wasn't the time for wars. So, it was even the demand of the film and script to wake up early. Nothing was included in the script for the evening time.
Which special skills did you learn during the workshop?
We were trained by a retired Colonel of the army. He would start the workshop with a warm up exercise and then train us. The major skill set that we learnt was to handle a gun, how to fire, load, reload the bullets. In those times, the guns were generally reloaded after every bullet shot and learning this skill took a lot of time. Another major skill was wrestling. I actually had a different class for my particular action scene. In the evening we used to have a separate acting class. Ironically, the villain of the movie used to take our acting classes!
There is a huge difference between your present look and the look that you had in Kesari. So, now do you feel any pros and cons?
Even today if I go to meet any casting director, I have to show them both my photographs (laughs). Well, I don't think there was any negative impact after my look change because if it was not me then somebody else must have done the role.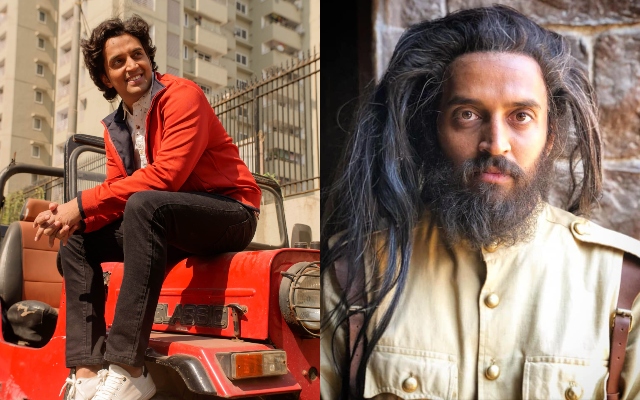 Do people recognise you after this drastic look change?
Well, I look at this from a different perspective. It was a very clear brief from Anurag paaji from the very time of auditions that we were to grow our beard and even the contract clearly mentioned that you cannot cut your beard during the film shoot. Rather, I feel happy about the fact that for any other role, If I have to show my Kesari character then they'll definitely be surprised ke eh ohi banda hai?
Do you feel that your hard-work was fruitful?
It was supposed to be. I believe the role was very well written and not just me, if it was any other actor, even he would have done justice to the role.
A very significant thing in the movie is that each character was very well written. Each character had something which was iconic, something that is not seen much in other movies, especially for supporting roles. There is no denial that people would have come to the theatres to watch the megastar Akshay Kumar but besides that even though the subject of the movie is based in Punjab, we did have non-Punjabi audience too. I think the writer definitely had this pressure that no character downplays or overshadows any other character in the movie.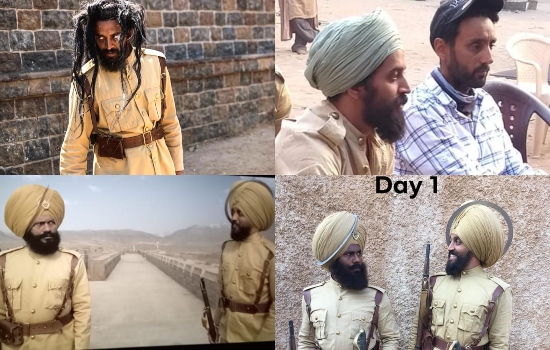 Since you have worked both in Punjabi and Bollywood industry, do you feel any difference between the two?
Scale of course is one dimension. Punjabi industry is relatively smaller, in terms of audience and capital. This is in terms of numbers. This is a quantitative term but in terms of quality you don't find any bound script in the Punjabi industry.
I have seen people writing dialogues and making last minute changes on set as per their convenience, which is not so in Bollywood. In Bollywood, you know your character and dialogues in advance and they remain the same till the end. Little variations are acceptable and fair but in the Punjabi industry you are only given an idea about the character and then the writer mostly develops a story around him only after he goes on the set!
There are hardly a few directors who have bound scripts which is also the reason why I walked out of a Punjabi project. Adopting the culture of bound scripts is the need of the hour for Punjabi film industry.
Do you agree if I say that most Punjabi filmmakers only try to please the superstars rather than thinking about the audience?
Absolutely. If you see, most of the time it is comedy movies that are made in Punjab. I am not against comedy movies but the matter of fact is that they have those few actors who have a very good comic timing and thanks to their years of experience, it is very easy for them to make and create punches on the spot.
So, to make a movie like Punjab 1984 you need to have proper planning and execution. You cannot make changes on the spot or after reaching sets.
A point will come when Punjabi audience will also demand something new. Mere comedy will not solve the purpose.
Have you ever faced rejections? How do you keep yourself motivated?
I think rejections are a part of my career. In this line you keep facing rejections till the time you have your own production house. Because, otherwise you are approaching somebody else to get work, basically he is going to invest on you. Whenever you seek a job, you are likely to face rejections. I myself have rejected a few roles owing to lack of creative satisfaction. So, I think self-motivation is the only key.
What made you accept Kesari?
When I read the script, I obviously loved the subject. Anurag paaji is like family to me and I know him since the time when he had done just 5-6 films. He is so experienced and I am sure that he must have seen something in me which is why he offered me the role. So, in any case I could not have turned down his offer.
Your first job is always very special. Do you remember any comment or appreciation for Kesari?
I remember getting a lot of comments from different parts of the country like Madhya Pradesh and West Bengal stating that after watching the movie we started to research about Saragarhi and one of the guys went on to say that earlier we used to make fun of the guys wearing turban but after watching your role I promise I will never comment on anybody's turban. I received so many such comments. So, for a non-Punjabi to relate to that scene and understand the importance of a turban is a big thing. I even feel proud of the last scene where I hand over my turban to Bhola.
The story of re-shooting the turban scene and also elaborate about your first scene of the film being shot on the last day.
During the editing, after nearly 10 days of shoot, we realised that the last turban scene had some continuity error so we had to shoot it again. About my first scene, I was to crack a joke in front of the regiment. The shot was beautiful but at the time of editing, the team realised that it was a little lengthy so they replaced the joke with a new one and we shot the entire scene again on the very last day of the shoot.
Did you get any good offers after Kesari?
Yes, I was offered a Punjabi film but I turned it down. Actually the makers only narrated a one liner to me after which they asked me to come for the shoot. I strongly believe that such working style is simply not possible with me. I was surprised to hear things like "aaja shoot te dekh lange" because that is not how a movie is made. Well, the movie was with a big starr but I turned it down by saying that I'm not the kind of actor for your movie.
You have been living in Mumbai for quite some time but still Chandigarh has a different vibe. Anything you miss about Chandigarh?
Earlier, I used to miss Chandigarh but last year during lock down when I was in Chandigarh, I missed Mumbai a lot. Chandigarh is a peaceful city and I feel Chandigarhians are a little laid back. People keep procrastinating but it is not the same here in Mumbai. You are away from your family and friends so you are more focused towards your work.
Tell us about your future projects.
I have written two Punjabi movies and the producer of one of the movies is abroad. We had planned a shoot in April but now, because of the current pandemic situation, neither could he come over nor are the theatres effectively operational. So, as of now, we are hoping that everything gets back to normal so that something can be done about the scripts too.
Well, we too wish the same and it was really amazing to talk to this multi-talented guy! Here wish him all the luck for his future endeavours.
---