Kuwar Amritbir Singh, a fitness influencer from village Umarwala, Batala, district Gurdaspur, is a 19-year-old, who has made everyone proud by setting a record in the India Book of Records and World Records of India by following his passion for fitness.
His list of achievements is unending but some of his remarkable accomplishments include his ability to do over 120 knuckle pushups in 60 seconds. When he was just 17, he made the record by doing 118 knuckle pushups in a minute. His last record for India Book of Records was 35 superman push-ups in 30 seconds. He has also been nominated for Karamveer Chakra award. Currently, he is pursuing his graduation from GNDU, Amritsar.
So, GHAINT PUNJAB team thought of talking to him to get know him better. So, let's see what he has to say about his journey.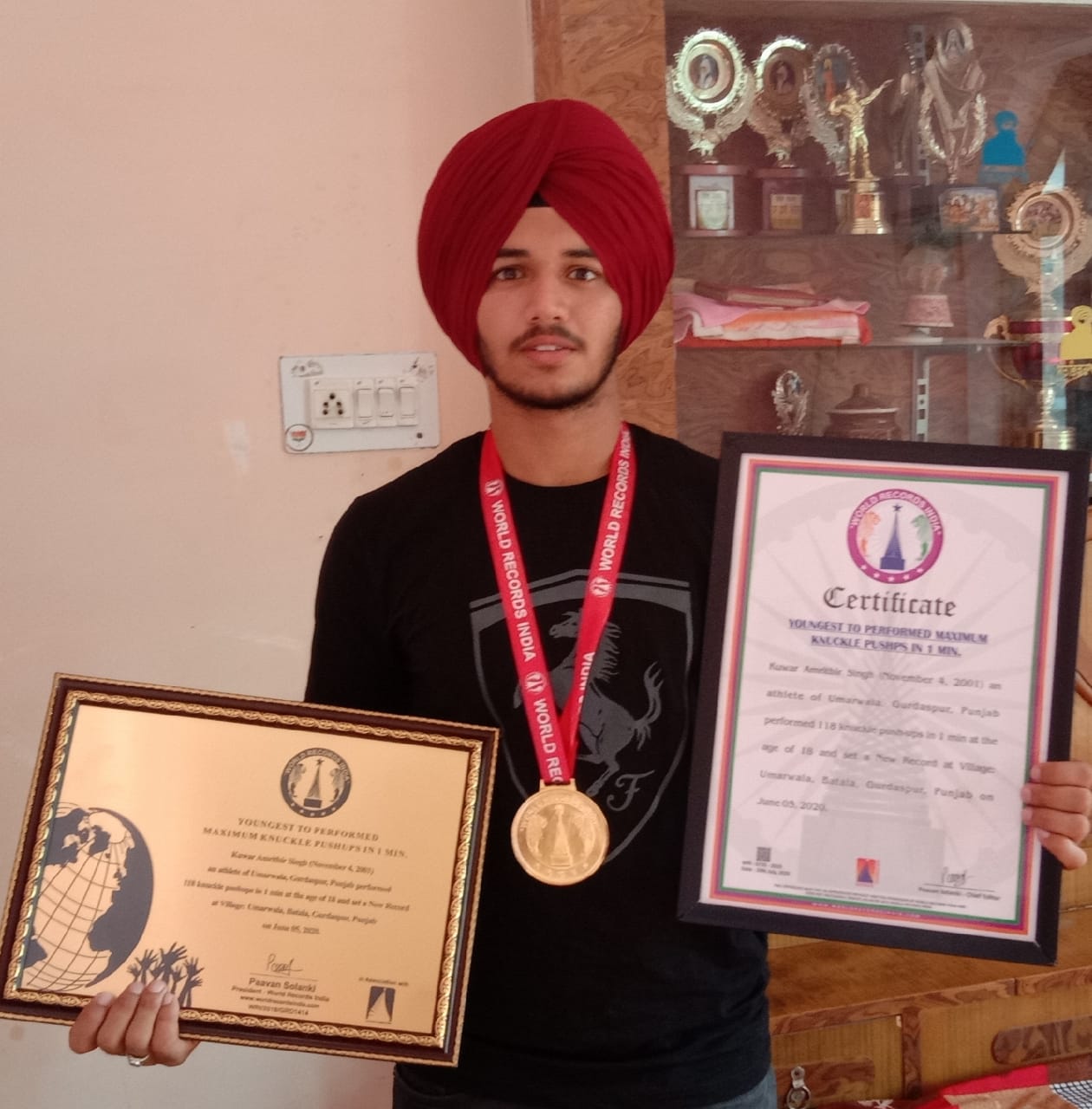 How did you come up with the idea of fitness training?
Ever since my school days I wanted to do something different. Whenever we had athletics meet and drama, I always used to prepare a lot and put in a lot of efforts. During dramas, luckily, I generally used to get the roles of Bhagat Singh, Udham Singh or Kartar Singh Sarabha. So, while doing these roles I really got inspired from them. Not only this, infact, my teachers also used to encourage me a lot as I was good in studies, sports and in extracurricular activities.
For how long do you practice in the gym?
I have never gone to gym. Infact, I have made all my exercise equipment out of waste material. I have empty plastic bottles which I have filled with cement to use them as dumbles. Bricks are tied with a rope or a cloth and then I use them for my chest press, bench-press and other exercises. So, that's how I practice on the tube well. Apart from this I do all kinds of workout skills such as pushups. Because I think that is the best way to motivate the youth.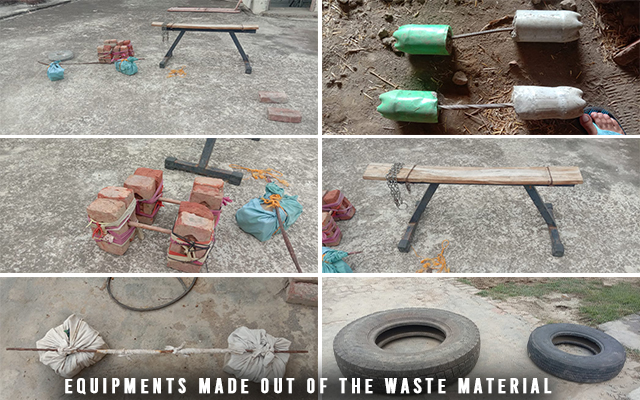 What are your hobbies?
I like writing, reading biographies, history books and of course workout.
How did you come up with the idea of making gym equipment at home and not going to the gym?
Whenever I used to read about the history of our legendary wrestlers, I used to get inspired by the fact that all of them have practiced and worked out without supplements and modern machines. So, if they could do this merely by sit ups, touch new heights and achieve so many things then why can we not do that today? Why are we dependent upon the luxuries? So, I started practicing at a very small age of 15-16.
And it is not that I did not have enough money to afford the gym fee but it was just that I wanted to inspire the youth. All you need is believe in yourself and be passionate.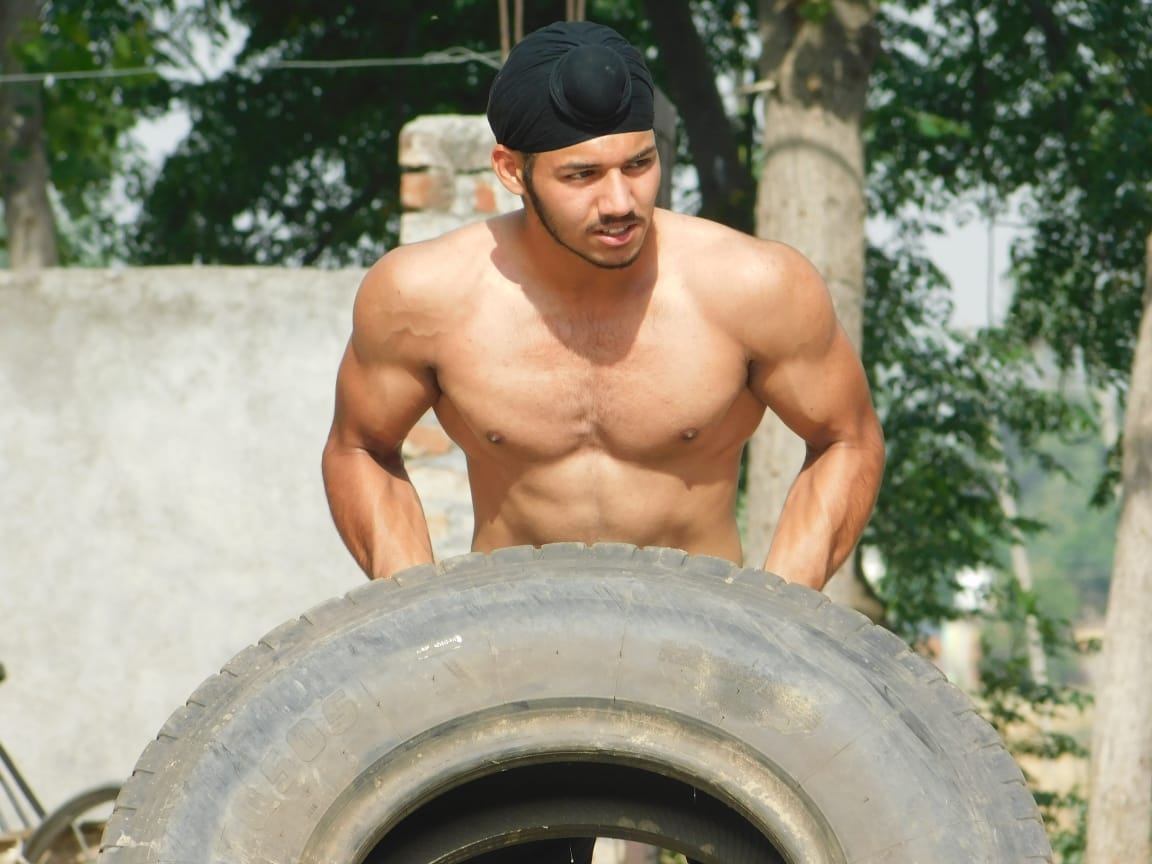 How did you the world record happen?
When I started reading about various world records and side by side watched Punjabi movies, I realized that we don't have any action hero who happens to be a sardar. I used to see Akshay Kumar, Tiger Shroff and several others and wonder why we have no such heroes in Punjab. I am highly influenced by John Abraham and want to become an actor too. Later, when I researched about world records, I got to know that it was Ron Cooper from United States whose score was 89 knuckle pushups in 1-minute and then I started practicing. I was able to hit 82 in the first go but still, I wanted to set the target at 85 before submitting the record but I was rejected in my first attempt on the grounds of my push up techniques. The rejection left me demotivated and I thought that the officials are biased because Ron belongs to their country. But then I thought, rather than pointing fingers on others I should work on myself and then I started practicing even harder to achieve my goal and improve my ability. Finally, after hard work of 4 months, I was able to do 118 knuckle push-ups in one minute which turned out to be a world record.
So, my second record was 35 superman push ups in 30 secs. Till now, I am the only Sikh guy to make that record in the entire world.
Who is your inspiration?
I am highly inspired by John Abraham, both in terms of acting and leading a fit and disciplined life. If you wake up early you would want to do something productive and also the biographies that I read have a huge impact on me.
Tell us about your daily routine.
I wake up at 5:30-6 am and workout for 2 hrs in the morning and evening. My morning exercise focuses mainly on stretching with the weight materials I have made and, in the evening, I practice workout to enhance my action skills like triple clap pushups, handstand, superman pushups, etc. Also, I don't consume supplements, rather I prefer homemade food like curd etc.
Since you practice at home, who is your coach? How do you get professional training?
I feel wherever you go, you get to learn a lot. Similarly, I learned a lot of things during my school sports class. Apart from that I think we are lucky that we have internet which is a plethora of information and you can learn anything and everything from there. My father and uncle have been sportspersons too. So, that's how I am being trained.
Tell us a little about your family background.
I belong to a Punjabi family of farmers. My great grandfather, grandfather and father have served as 'Sarpanch' of our village.
Punjabis are considered to be foodies, but your fitness regime requires a lot of discipline so how do you balance between the two?
I don't make any efforts, actually I avoid outside food. We know our body requires every mineral and if we suddenly stop having oily food then that would obviously affect our health. Not only this, you should have everything but in limit. Also Read: Things You'll Relate To If You Have A Punjabi Mom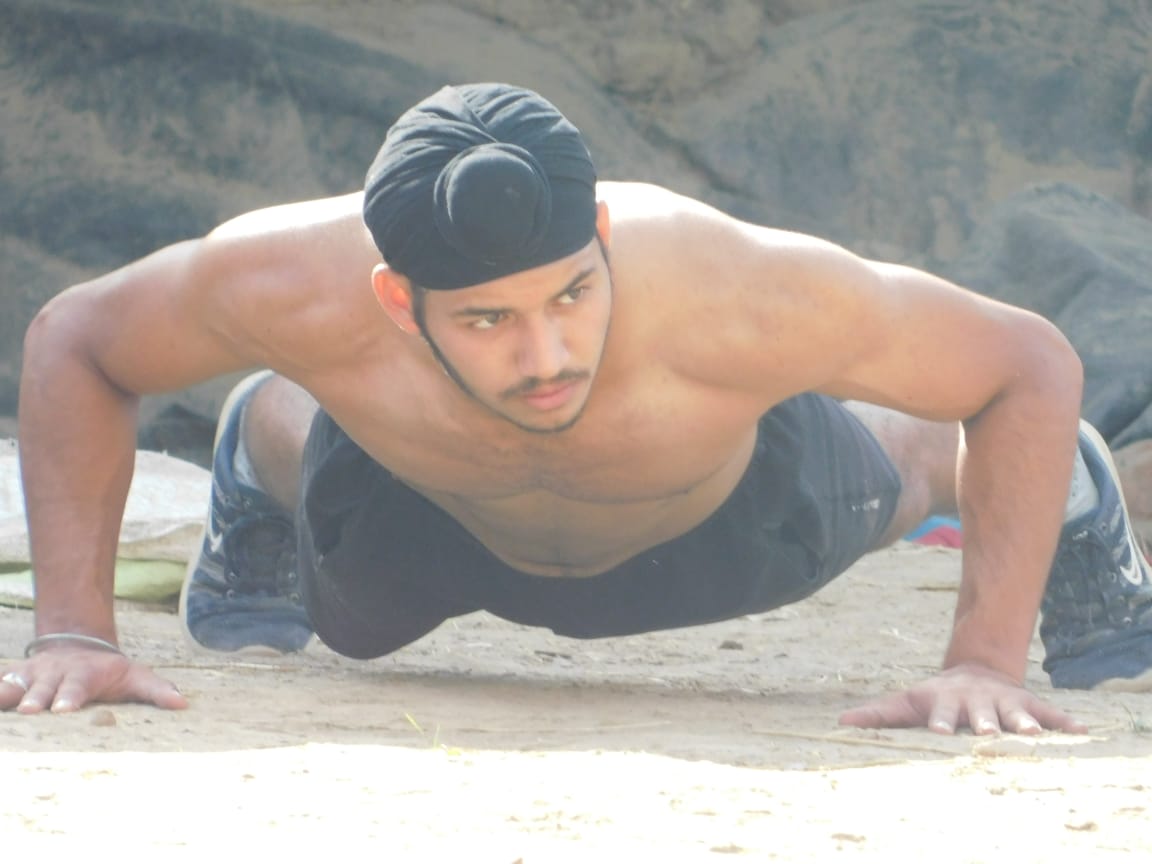 Have you ever faced any sort of rejection in your life?
Yes, when I used to go to various companies for sponsorship, I was rejected by them and this has happened some 40-50 times. But now I realise that rejection turned out to be a motivation for me. They made me even stronger.
One can become physically strong and fit by practicing but mentally too you have to be strong. Sometimes I was left in a dilemma after a rejection - if I give up what am I supposed to do then?
What was the reaction of your family about your decision of being a fitness influencer?
Punjabis always have this tendency that till the time you don't achieve anything your family doesn't support but once you start achieving it is only then that you get the support from your family. Even me, till the time I did not make any achievements I kept mum (laughs) and kept on doing what I wanted to. And when I made my first record, I told my family that's what I want to do and be a fitness influencer.
Kids of your age generally indulge in gaming and other distractions. They're aren't even too serious about their career choices. How do you remain focused?
Yes, a lot many times I too got distracted but one always needs to understand that it is only you who is responsible for your future. I have spent some of my schooling years in hostel where one gets huge exposure and a new lifestyle meeting new people. So, you are even more prone to distractions. At home you are so pampered that you are into day dreaming.
Unfortunately, some of my friends were indulged in drugs and when I saw them and tried explaining them about the negatives, we entered arguments, and that too multiple times. So, I stopped saying anything to them and focused on my career. Now they realize they were wrong. Since, I always had this dream to become a better person so peer pressure never really affected me. Also Read: Millennials Must Not Be Knowing Who Actually Sang 'Bajre Da Sitta'?
Do you ever feel that this world record is enough or you have other plans too?
No! Infact, I think this is just a start. I got awarded on Aug 15 last year and Jan 26 by the respected DC and SDM of our district as the Young Youth Icon of Gurdaspur. After that, I got nominated for Karamveer Chakra Award. Such achievements only push you forward to keep going.
What are your future plans for now?
I want to participate in various reality shows like Roadies, Big Boss and Splits villa. Infact, I have even been called for a Punjabi show. So, I would definitely vouch for it. I have done two short movies also as the lead role.
Well, this lad is already making everyone proud in such a young age. Even we wish him all the luck for his future!
---