The 'Kisan Shaheed Smarak' was inaugurated late on Sunday night at the Shahjahanpur border of the highway. The monument has been designed by Lalon of the National Institute of Design Ahmedabad. It has been built in the memory of farmers who were martyred during the protest in the country's capital while agitating against the new farm laws. According to the data collected by Sanyukt Kisan Morcha (SKM), as many as 248 farmers have died during protest against three Central agriculture laws in just 87 days. The SKM claims that this data has been collected from November 26, 2020 to February 20 this year. At the memorial, several matkis (ash pots) were displayed on the border.
The Mati Satyagraha Yatra, which started across the country from March 12, ended concurrently at the borders of Delhi including Shahjahanpur. The yatra reached Shahjahanpur under the leadership of Dr. Sunilam, convener of All India Farmers Coordination Committee and Megha Patekar, the leader of Narmada Bachao Andolan, at around five o'clock on Monday morning. Combining the Mati with the previous visit of the country and the visit to the country, there was the task of laying the matka on the martyr's memorial. Not only this, Poonam Pandit, who became famous all over the country due to the farmer movement, also reached the Shahjahanpur border with her colleagues by taking the land of 25 districts of UP. Also Read: A Write Up About Farmers Protest You Must Read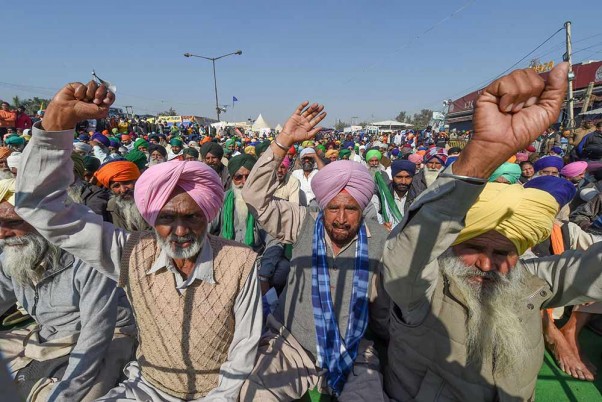 Farmers and peasant leaders accompanying the yatra on the Shahjahanpur border were welcomed by peasant leaders including Bharatiya Kisan Union President Balbir Chhillar, Swaraj Party chief Yogendra Yadav, former MLA Amaram Chaudhary, former MLA Pawan Duggal, GKS chief Ranjit Singh Raju. Before the inauguration of the memorial, a two-minute silence was offered to the farmers who offered sacrifices to the peasants. Also Read: Millennials Must Not Be Knowing Who Actually Sang 'Bajre Da Sitta'?
---