Mia Khalifa was just one of the many national and international celebrity personalities to tweet about the continuing Farmers' protests in India. A video of herself enjoying the feast was uploaded in the tweet.
Writer Rupi Kaur who recently published the novel, "Milk and Honey" sent Khalifa an Indian meal fit for a king. Jagmeet Singh joined in on the action by sending her delicious Gulab jamuns. He is an MP in Canada's Parliament. She took a selfie of herself eating the food. She tweeted this with the caption, "Shoutout to the farmers!
Also Read: Hollywood stars including Rihanna, Meena Harris & others support farmers protest, Kangana backlashes
She posted sarcastic tweets that were meant to counter claims from trolls who publicly tweeted that she had been paid to post tweets that supported the protesting farmers. She tweeted, "It's just so nice to really earn something through hard work! I earned this amazing and delicious dinner. My first thanks go to Rupi for sending me this scrumptious dinner. She sent me this gift as appreciation for the humanitarian tweets and posts I've been putting up on various social media platforms. My second thanks goes to Jagmeet for this amazing and delicious dessert." Also Read: Cash Reward Announced By The Delhi Police Upon Deep Sidhu's Arrest
She further stated, "I would like to remind everyone that 'there is no such thing as a free lunch! My price happens to be samosas. I can be bought with samosas. While I can't speak for others, I am personally satisfied with this great meal. I am willing to post on social media for anyone who is willing to offer me the most amazing samosas." "Thank you Rupikaur for this beautifully harvested feast and thank you Jagmeet Singh for the Gulab jamun. I'm always worried that I'll get too full for dessert so I eat it during a mean. You know what they say, one Gulab a day keeps the fascism away!" #FarmersProtests. Also Read: Who is Mahima Kaul? Why Is Her Resignation From Twitter Being Linked To Farmers Protest?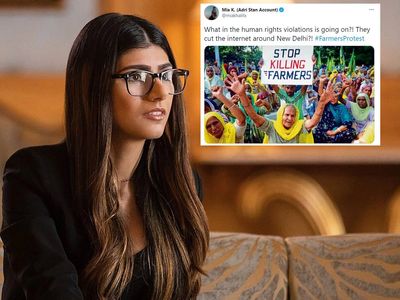 Khalifa had voiced her opinion over the discontinuation of the internet at the protest sites. She wanted to know, "What in the human rights violations is going on?" She further wrote, "Paid actors, huh? Quite the casting director, I hope they're not overlooked during the awards season. I stand with the farmers!" #FarmersProtests. She reiterated her support for India's farmers after her tweets had garnered sharp reactions. Also Read: Central Government To Take Legal Action Against Twitter On Farmers Issues
---