After Delhi police had announced a cash reward for sharing information leading to the arrest of actor turned activist Deep Sidhu and others who are wanted in the case, a morphed letter by Kirti Kisan Union had gone viral on social media. The fake letter, which was a supposed letterhead stated that the public must share any vital information leading to nabbing Deep and his associates.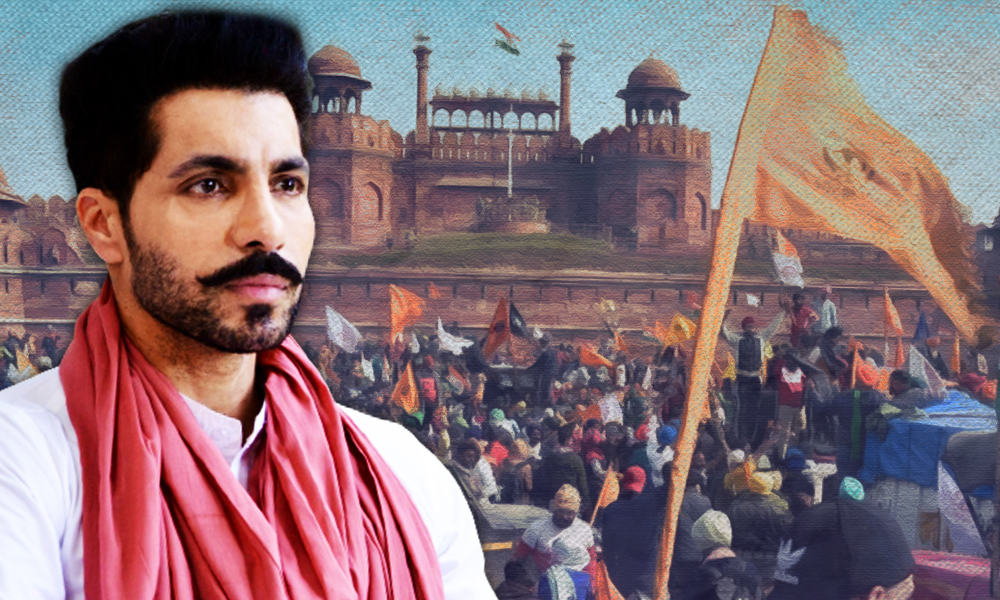 The letter also assured a separate cash reward amounting to rupees one lakh to the informer in addition to the reward announced by the government. It further stated in the letter that the name and address of the person providing the information will be kept confidential. The picture of the letter dated Feb 02, 2021, which went viral on Whatsapp carried the signature of Rajinder Singh, Kirti Kisan Union, Village Deepsinghwala, Faridkot. Also Read: Similar To Kangana Ranaut & Diljit Dosanjh, Koena Mitra & Prabh Gill Too Had A Twitter War!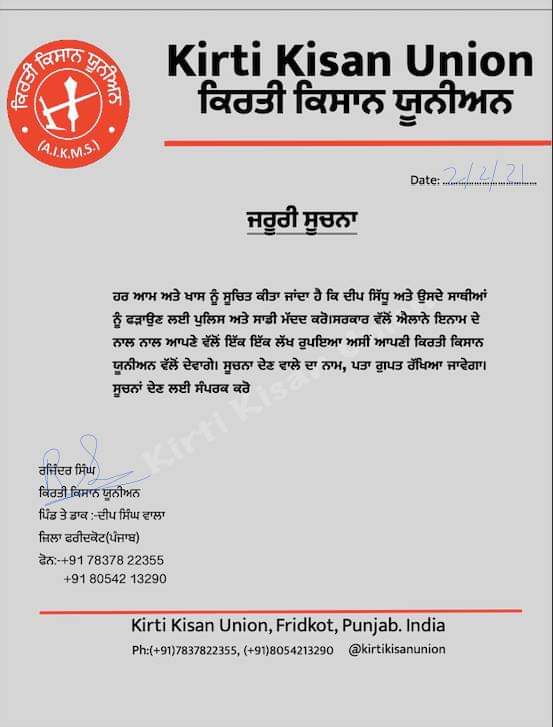 But, refuting any such claims, the official page of Kirti Kisan Union posted a clarification and stated, "2 ਰੁਪਏ ਪੋਸਟ ਵਾਲੇ BJP IT cell ਦਾ ਜੋ ਰਜਿੰਦਰ ਸਿੰਘ ਦੀਪ ਸਿੰਘ ਵਾਲਾ ਖਿਲਾਫ ਕੂੜ ਪਰਚਾਰ ਕੀਤਾ ਜਾ ਰਿਹਾ ਉਹਦਾ ਵਿਰੋਧ ਕਰੋ।"
It is important to note here that Sidhu has been posting his videos trying to prove his innocence. In his latest video, Deep Sidhu claimed that he is within a 10km radius of the Singhu protest site.
"I will prove everything. I have all the evidence to expose the lies. I will represent myself in court. I can come to morcha. But I don't want any trouble between my supporters and others. Otherwise, I am not 10 km away from the morcha site. I can come there. But right now our focus should be on protest morcha. I will prove my innocence but first, it is a must that we win this fight. But I have regret for those people who couldn't stand for Nishan Sahib hoisted on a vacant pole."
He further added, "We can't fight the battle based on lies. Start acknowledging the truth. I just got to know they have arrested our youth, let's get them out on priority, let's stay united and fight this". Also Read: Good News: Singer Harshdeep & Hubby Mankeet Are Expecting Their First Child!
Meanwhile, the panchayat of Deep Sidhu's ancestral village of Udekran in Muktsar has passed a resolution in his support and warned people calling him a traitor.
Nearly about 14 hours ago, Deep Sidhu has also posted a video of a man who went to his village and supporting him. The identity of the man is yet unknown. The man in the video can also be seen favoring him and said " We went to his village and got to know that the 34-year-old was just four years old when his mother passed away. He went to London for his studies. His great grandfather, Nihaal Singh Sidhu, was a good friend of Bhagat Singh's uncle and they used to stay in the same room in Lahore where Bhagat Singh used to visit often. A newspaper called "Khalsa" was often read by his great grandfather, the copies of which were later brought by his great grandmother. So, later under the influence of his great grandfather's teachings, he had this patriotism in his blood" He further added, " He is a self made person who has enough money so he doesn't need to do such tactics for the sake of money". . Sidhu captioned the video, " Thank you Bai ji for being there, it means a lot to me". Also Read: Maharashtra BJP Leader Files A Complaint Against Yograj Singh
---