Director Aditya Sood, who is known to have renounced Punjabi films after his previous debacle 'Teri Meri Jodi', which turned out to be an epic blockbuster flop, the man has decided to retract his promise and return with, not one, but two films in 2021. Apart from his already known production 'Pakke Canada Wale', the filmmaker has now announced 'Baari Barsi', the second project among his two new films.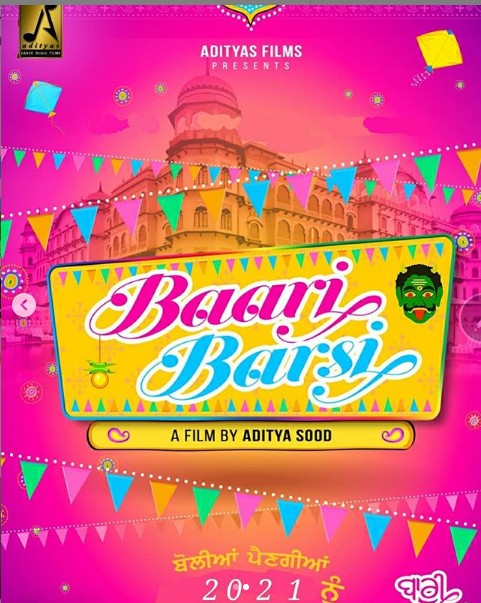 Sood took to Instagram to share the announcement on Tuesday evening by posting the posters for both the successive films. While 'Pakke Canada Wale', which happens to be his next flick after the embarrassing crash of 'Teri Meri Jodi' in 2019 will be produced by Harmandeep Sood, the production hand behind 'Baari Barsi' remains unknown.
Sharing the post on Instagram, he wrote," My passion towards Punjabi industry will be continue ! Agle saal double dhamaal !Thank you ! (sic)."
Even though the plot of 'Baari Barsi' continues to be a matter of mystery, a subtitle reading 'boliyaan paindgiyan' (there will be music) indicates a potential connection with Punjabi folk dances like Giddha. 'Baari Barsi' also marks the beginning of the opening sentence in Punjabi folk dances, where 'boliyan' refer to friendly and fun-loving rhyming verses recited during musical face-offs during festivals.
Sood had become the epicenter of controversy sometime last year after, in his overconfidence, he had renounced direction and films if 'Teri Meri Jodi' would not be a success. Given the eventual tragic performance of the film, his return with not just one, but two new projects is both courageous and brave. While 'Pakke Canada Wale' was earlier scheduled to be released on July 7, 2017, it shall now hit the screens sometime next year.
Also Read: Bhoot Ji: Binnu Dhillon All Set to Lead In This Smeep Kang Comedy!
We sincerely hope he redeems himself and does not squander this chance to tell a tale worth engaging in, and for that, he has not one, but two chances. While his fans continue to cheer his inspiring come back, the announcement has left many film critics worried and frowning. May this be, no easy debacle, yet again. Till then, here's hoping.
---