On 16 July 2020, Mel Karade Rabba marked twelve years of its release. This full package film was the biggest hit of 2010.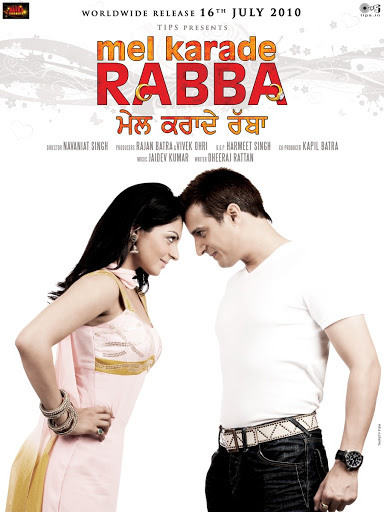 We talked to the Director of the film Navaniat Singh on the occasion of its ten years in cinema and here's how the conversation went.
"Just realized its been ten years and after ten years I am making Shareek 2 with the same actor and producer," said an elated Navaniat.
How did the concept of Mel Karade Rabba materialize?
After the success of Tera Mera Ki Rishta, we wanted to make another romantic film. Dheeraj Rattan's script was packed with romance, action and emotions. I then met Bubby Kent (Producer of several Hindi Films like Kurbaan, Jaanam Samjha Karo, etc). Today a Punjabi film with cast and team can get a finance backup easily but back then, it was not as easy.
A reputed banner like Tips Films got associated with the film. Tell us how it happened.
Looking at the scale of the film, I thought that it will shelve after two days of shooting. Rajan Batra, Kapil Batra & Vivek Ohri joined in. Everything fell in to place and Mel Karade Rabba got made.
Who was the first choice for the lead roles?
Jimmy Sheirgill and Neeru Bajwa were the first choices for the roles of Rajvir and Seerat from day one. Gippy Grewal was picture perfect as the anti-hero character Nihal.
Other then Jimmy Sheirgill, Neeru Bajwa & Gippy, the film had Shivindra Mahal, Jaswinder Bhalla, Amar Noorie, Dolly Minhas, Sunita Dhir, Bhotu Shah, Kake Shah, Manni Boparai, Arvinder Bhatti & Jaswant Daman in important roles.
How did you manage to justify so many characters in the film?
Mel Karade Rabba is one film in which each and every supporting character left a mark. Even though the prime focus was on the love triangle but the other small stories intertwined into the mail subject, added a lot to the final film. Jaswinder Bhalla and Amar Noorie's comic track was not like an extra filler, it went with the flow of the film. Same was the case with the emotional plot featuring Dolly Minhas as Jimmy Sheirgill's mother and Jaswant Daman as Neeru Bajwa's grandmother.
Mel Karade Rabba is mentioned as a remake of Rehna Hai Tere Dil Mein (which was itself a remake of south film Minnale) at some sites. Is this information true?
I don't know from where this rumour started but if I have to compare RHTDM to Mel Karade Rabba then all I can say is that both the films have nothing similar and it is a baseless piece of information.
Mel Karade Rabba got caught engulfed in a controversy over the dialogue 'Hockey di taaqat kalam di taaqat naalon jyada hundi hai'. Did you guys see it coming?
When I had read this line for the first time, even I was not in agreement with it but a character like Rajvir was going to utter this dialogue. Rajvir was actually written in that way. But then later he goes through a transformation and things change.
The film's music did very well and turned out to be a plus point of the film. Any special arrangements that the team did for it?
Atif Aslam was singing many of Tips Films' songs at that time, which is how he got on board for 'Rona Chad Ta'. 'Punjabi Munde', 'Dil Wali Kothi', 'Dil Da Qaraar', the title song to 'Balle Balle' and the promotional song 'Sher Bannke' featuring Gippy, all were hits.
Also Read: Celebrating 10 Years Of The Blockbuster Hit – Jatt & Juliet- Special Interview & Trivia Inside!
According to a reputed Hindi film box office site, Mel Karade Rabba grossed 1.95 Cr in its first weekend. It this figure true?
Back then, there was no transparency as multiplexes were few in number. But I can confirm that the film did have a big opening. My father(Cinematographer Harmeet Singh) called me in the morning on the very first day of this film's release. He told me there is a huge crowd outside Narinder Cinema (Jalandhar) and my ears could not believe him. Then a week later, I went to the same theatre along with Mandeep Kumar (the assistant director) and saw people throwing coins during one if it's action scenes. I had seen such a response for the first time in life.
The film also went on to perform well in Canada, Australia, Newzealand and America.
Now ten years later, what would Rajvir and Seerat's life be like? Have you ever thought of taking their story forward?
Both were poles apart. If I foresee, they might have had a kid who would be a youngster by now! But I am sure they would be still fighting. Nihal (Gippy) would still be the same. Actually, talking about its sequel, I feel some films should not be touched. In Punjab's trend of sequels, there are very few films which take the story forward. In case of Mel Karade Rabba, it might look like a forceful attempt.
A cameo appearance of Diljit Dosanjh was surprising for the audience, the real Rajvir.
Diljit had sung the song 'Punjabi Munde' for the film which is when we discussed his cameo with him. The moment I saw him performing on that one scene, I knew he is going to be a star. It was a small scene, but the impact was huge.
Breaking the niche
Mel Karade Rabba came at a time when most of the romantic dramas were based on NRI themes including Navaniat's directorial debut Tera Mera Ki Rishta. But Mel Karade Rabba had no connection with the NRI theme. Back then, it was believed that to lure NRI audience into theatres, Punjabi films must be about them. Mel Karade Rabba not only broke previous box office records but also broke this myth about NRI connection.
The film was an interesting take on two opposites falling in love. Mel Karade Rabba further helped Punjabi Cinema to expand its reach.
Mel Karade Rabba Trivia
1. It was released along with the big Bollywood film Lamhaa and acclaimed films like Udaan & Tere Bin Laden. Mel Karade Rabba outdid all these films at box office.
2. Out of 15-16 Punjabi releases of 2010, Mel Karade Rabba was the biggest hit.
3. The film won PTC Awards for Best Film, Best Actor, Best Actress (critics), Best Screenplay & Best Music.
4. Known Film Directors Mandeep Kumar & Amarjit Singh Saron had assisted Navaniat Singh during the shoot of Mel Karade Rabba.
5. The film marked the on-screen debut of not just Gippy Grewal, but also Diljit Dosanjh, who was seen in a cameo appearance.
---