We had reported about Leonardo DiCaprio's recent post about Punjab and the man keeps showing his concern over climate changes in the whole world. He would often mention about environmental posts regarding India too.
For those who are wondering why then let us tell you that there is more to his connection with India and also to Sikhism. Though most of us believe that his mother is a practicing Sikh, but the one who is actually a Sikh is his stepmother. Leonardo's biological mother Irmeline Indenbirken is an actress, but his stepmother Peggy Ann Farrar is an amritdhari Sikh.
Leonardo's father George DiCaprio (a writer) had divorced his wife Irmeline and married Peggy Ann Farrar. He had also adopted Peggy's son Adam Farrar. Leonardo was living with his father and stepmother during his teen years and was said to be very close to his stepbrother. In fact, it's believed he got inclined towards show business due to his stepbrother who was into modelling and acting.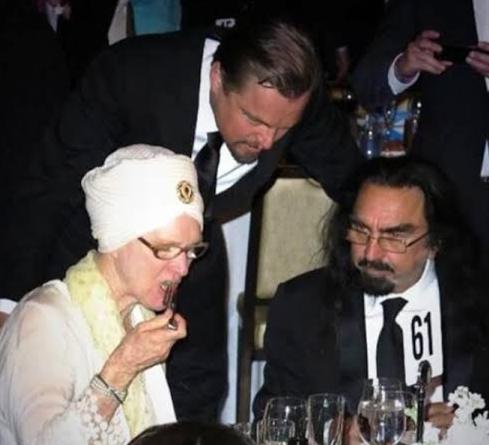 Leonardo DiCaprio had cordial relations with Peggy and she would often drop by to his movie sets to meet him. It is reported that Peggy had started following Sikhism years ago.
Also Read: We Bet You Didn't Know That Michael Jackson Had A Sikh Cook Named Mani Singh Khalsa!
Later on, she became a practising Sikh. She then started sporting a turban along with Indianised cloths.
---