Many films openly claim to be official remakes of other regional films but many a time, makers don't disclose that their story has been taken from a particular film in the other language and because most of us are not very familiar with other regional cinema, we end up considering that what we've seen is a fresh concept. Punjabi Cinema has undoubtedly inspired many filmmakers to remake our films in their language but you will be surprised to know that many of our films have also been inspired by other language films, and many are remakes too!
Check out our exhaustive list of Punjabi films that are actually remakes of other language films, and some are inspired:
1. Addi Tappa (2004): Directed by Jeet Matharu, Addi Tappa was an experimental film that had women lead characters played by Vibha Bhagat and Parul Kakra. It was inspired by Priyadarshan's Tamil film Snehithiye which had Tabu, Jyotika etc in lead roles. In spite of being one of a kind film, Addi Tappa failed at the box office.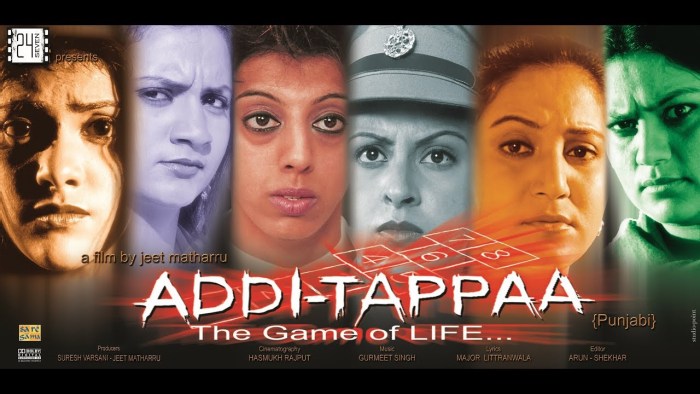 2. Mel Karade Rabba (2010): Directed by Navaniat Singh, this successful film had Jimmy Shergill, Neeru Bajwa & debutante Gippy Grewal in lead roles. The film was inspired by Madhwan & Dia Mirza starring Rehna Hai Tere Dil Mein, which was a remake of Madhwan's Tamil film Minnale.
3.Simran (2010): A Darshan Bagga film, Simran had a plot that was used in many languages. The first was Rajasthani film Bai Chali Sasre, which had Upasana Singh in the lead role. Next, a Marathi film that was made on the same subject. Finally, a Rishi Kapoor & Juhi Chawla starring Sajan Ka Ghar was inspired by the Marathi version. Simran had Saadhika Randhawa along with Guggu Gill in lead roles. While all the other language films did well at the box office, Simran being an outdated concept could not do well.
4. Tera Mera Ki Rishta (2009): This Navaniat Singh film was inspired by a Telugu film Nuvvostanante Nenoddantana. The Punjabi version had Jimmy Shergill & Kulraj Randhawa in lead roles. It was a big hit at the box office. A few years later, Hindi film Ramaiya Vastavaiya was made on the same subject but it tanked at the box office.
5. Luv You Bobby (2009): This film was produced by Darshan Sindhu to launch his son Vikram Sandhu. It was publicized as the remake of Bobby. Even 35 years after Rishi Kapoor-Dimple Kapadia's Bobby, this film was not even close to the all-time classic. It was a flop at the box office.
Also Read: Here's The List Of Top 7 Highest Rated Punjabi Movies Of All Time!
6. The Lion Of Punjab (2011): Guddu Dhanoa made his debut in Punjabi Cinema with The Lion Of Punjab, which was also the leading debut film for Diljit, co-starring Jividha Astha, Pooja Tandon & Gurpreet Ghuggi.The Lion Of Punjab was inspired by Tamil blockbuster Dhool, which had Vikram, Jyotsana, Reena Sen & Sayaji Shinde in lead roles.
7. Disco Singh (2014): Anurag Singh's Disco Singh had Diljit Dosanjh, Surveen Chawla, Upasana Singh & Manoj Pahwa in lead roles. It was loosely inspired by Govinda, Sushmita Sen, Lara Dutta & Ritesh Deshmukh starring Hindi film 'Do Knot Disturb', which was inspired by a 2006 French film The Valet. In spite of bad reviews, Disco Singh did well at the box office.
8. Mr & Mrs 420 ((2014): Directed by Kshitij Chaudhary, Mr & Mrs 420's basic plot was earlier seen in Mehmood, Biswajit starring old Hindi film Biwi Aur Makaan which was directed by Hrishikesh Mukherjee. Years later, a Marathi film Ash Hi Banwa Banwi starring Ashok Saraf, Sachin, Ashwini Bhave was made on the same subject,which is one of the known classic films of Marathi Cinema. Subhash Ghai's production Paying Guest had Javed Jaffery, Joney Lever, Shreyas Talpade, Neha Dhupia, Ritesh Deshmukh & Celina Jaitly in lead roles. Though it flopped at the box office, Mr & Mrs 420 was a sleeper hit. It had Jassi Gill, Binnu Dhillon, Babbal Rai,Yuvraj Hans,Jaswinder Bhalla, Shruti Sodhi in the lead roles.
9. Ramta Jogi (2015): Guddu Dhanoa's second venture in Punjabi was Ramta Jogi, which was the remake of a hit Tamil film Kadhaal starring Bharat & Sandhya. But the debutante Deep Sidhu, Ronica Singh & Rahul Dev starring Punjabi version failed at the box office.
10. Channa Mereya (2017): Pankaj Batra's Punjabi film Channa Mereya was the remake of Marathi hit Sairaat which is one of the biggest hits of Marathi Cinema. Sairaat was further remade by Dharma Productions as Dhadak for Jahnavi Kapoor & Ishaan Khattar's debut. Debutante Ninja, Amrit Mann & Payal Rajput's Channa Mereya was a moderate success at the box office.
11. Lovely Te Lovely (2015): Debutante Gurjeet Singh, Pooja Thakur & Hardeep Gill starring Lovely Te Lovely was inspired by Priyadarshan's hit film Hungama, which had Akshaye Khanna, Aftab Shivdasani, Rimi Sen & Paresh Rawal in lead roles. Hungama was itself a remake of Malayalam film Poochakkoru Mookkuthi. Lovely Te Lovely was released without much buzz and was a flop.
12.Lock (2016): Smeep Kang took a different route with this experimental subject which had Gippy Grewal, Gurpreet Ghuggi, Geeta Basra and Smeep himself in lead roles. The film was a remake of Shutter, which is a cult Malayalam film. Lock got good reviews but underperformed at the box office.
13. Sardaar Saab (2017): Amit Parashar's film Sardaar Saab was inspired by the Tamil Hit Thalaiva starring Vijay & Amla Paul. Sardaar Saab had Jackie Shroff, Guggu Gill, Daljit Kalsi & Neetu Singh in lead roles. Though a well-made film, it could not do well at the box office.
14. Son Of Manjit Singh (2018): An official remake of Marathi classic Shikshanchaiya Aaicha Gho, Son Of Manjit Singh had Gurpreet Ghuggi,Japji Khaira, Tania & Damanpreet Singh in lead roles. A Kapil Sharma production, this one was directed by Vikram Grover. It got favorable reviews, but could not do that well.
15. Chandigarh Amritsar Chandigarh (2019): Karan Guliani's Chandigarh Amritsar Chandigarh was a remake of Swapnil Joshi & Mukta Balwe's Marathi hit Mumbai Pune Mumbai.The film was also made in Hindi as Mumbai Delhi Mumbai with Shiv Pandit & Pia Bajpai. The Gippy Grewal & Sargun Mehta starring Punjabi film met with an average response at the box office.
16.Singham (2019): Ajay Devgan's Singham was also a remake of Tamil hit with the same title. It must be very rare to have the same title of three films which were made on the same subject. Navaniat Singh's Parmish Verma, Sonam Bajwa & Kartar Cheema starring Singham fared badly at the box office.
17. Lucky Di Unlucky Story (2013): Smeep Kang's hit Punjabi film Lucky Di Unlucky Story was inspired by Kamal Hassan & Simran starring Tamil hit Panchatanthiram. It had Gippy Grewal, Surveen Chawla, Binnu Dhillon, Gurpreet Ghuggi, Jaswinder Bhalla & Jackie Shroff in lead roles.
18.Aasra (2019): Aakashdhootu was a Malayalam film that had Madhwee in the lead role. She won the Filmfare Best Actress Award for this movie which was actually inspired by an English film Who Will Love My Children. A few years later a Marathi film Chimani Pakhar was made on the same subject, for which Padmini Kolhapure won the Star Screen Best Actress Award. Around the same time, Manisha Koirala was seen in a film called Tulsi along with Irfan Khan, which was based on the same subject. Guggu Gill & Rani Chatterji starring Aasra was based on the same emotional subject but the film came and went without a trace.
19. Vaisakhi List (2016): Before Smeep Kang's Vaisakhi List, a Hindi film titled Run Bhola Run was in the making. It was inspired by a Korean film Jail Breakers. Run Bhola Run had Govinda, Ameesha Patel & Tushar Kapoor in lead roles but the film could not release. Jimmy Shergill,Sunil Grover & Shruti Sodhi starring Vaisakhi List was an average performer at box office.
20.Carry On Jatta (2012): The cult classic of Punjabi Cinema was inspired by a forgettable Hindi film Kuch To Gadbadh Hai, which was inspired by a Malayalam film Chakkikotha Chankaran. Smeep Kang's Carry On Jatta was one of the biggest hits of that year.The film had Gippy Grewal, Mahie Gill, Gurpreet Ghuggi, Binnu Dhillon & Jaswinder Bhalla in lead roles.
Apart from the above-mentioned films Uda Aida (Hindi Medium), Aatishbaazi Ishq (Darr), Arjan (Naukar Biwi Ka), Sarvann (Roti), Jagga Jionda E (Jhuk Gaya Aasmaan), Kala Shah Kala (Hum Dil De Chuke Sanam), Ardaas Karaan (Anand), Naukar Vahuti Da (Chachi 420), were also inspired or had subject similar to the mentioned Hindi films.
---