Soon after the Pulwama attacks at the beginning of 2019, a ban on Pakistani actors was announced by All Indian Cine Workers Association (AICWA). The association had also said that strict action would be taken against the organization or entity that violates the ban. The association had also condemned the attack that killed 49 soldiers in a terrorist attack in Pulwama on February 14, 2019. This ban showed solidarity and unity of the entire nation against terrorism and the entire nation stood by this decision. Actors like Fawad Khan, Mahira Khan who had a huge fan following in our industry had no option but to leave. Many Pakistani actors suddenly got replaced by Indian actors and since then Bollywood has not hired Pakistani artists for their projects.
After a recent film announcement, when we got in touch with AICWA for confirming the status of the ban imposed in the country on Pakistani artists, they made a strong statement.
In an exclusive interview with Ghaintpunjab, President AICWA Er. Suresh Shyamlal Gupta said, "We stand on the same statement even today. Whichever production house or producer will hire the services of Pakistani artists, shall be blacklisted from the Indian Film Industry. We will make sure that no one from the Indian Film Industry works with the erring production house, producers or director.
The association has now sent a formal letter to the Chief Minister of Punjab, Captain Amarinder Singh demanding a ban on the film 'Chal Mera Putt'. The announcement of this film came a few days ago which stirred emotions when the team boasted Pakistani actors with the lead starcast Amrinder Gill and Simi Chahal. The film is directed by Janjot Singh and is being made under the banner of Rhythm Boyz Entertainment.
A copy of the letter has been forwarded to the Hon Shri Prakash Javadekar (Minister of Information & Broadcasting), Hon Shri Subramanyam Jaishankar (Minister Of External Affairs) and Hon Shri Prasoon Joshi (Chairman, Central Board Of Film Certification).
Also Read: Blog: Here's A List 5 Banned Punjabi Movies And The Reason Why!
The letter reads: There is a sincere request to each of you to put a ban on the release of an Indian Punjabi movie casting Pakistani artists, after the terror attacks at Pathankot, Pulwama, we have learned that we Indians need to stand against any support direct or indirect to Pakistani media & movie fraternity. All India Cine Workers Association have ensured to voice out against the Pakistani artists not to be permitted in India for work related travel. AICWA Team again demands to ban all the Pakistani artists on a permanent status. There is a Punjabi movie named 'Chal Mera Putt' on floor directed by Janjot Singh under the banner of Rhythm Boyz releasing the movie on 26th July 2019. This movie will have Pakistani artists like Iftikar Thakur, Nasir Chinyoti & Akram Udas. All India Cine workers association demands Government Of India , Chief Minister of Punjab & Censor Board Of India to intervene and ban the release of the movie. Nation Comes First, We Stand With Our Nation."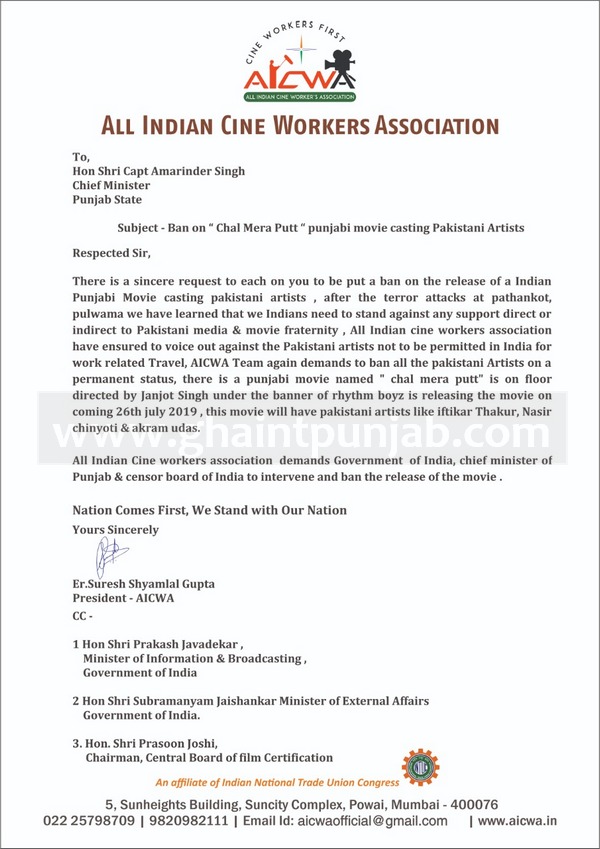 Sharing his displeasure over casting Pakistani artists in a Punjabi movie, Suresh Gupta further stated, "This is an insult to our soldiers and the entire nation. The Pulwama attack killed so many of our bravehearts, abandoned their families and shattered the future of their kids. Such people must be banned from the entire nation."
---