GhaintPunjab shared about a couple of films which were planned on the life of Chamkila, but none of those films could complete or release. While a docu-drama Mehsampur won laurels at various film festivals globally but it also is yet to release theatrically or on any other format.
Actor-Writer Gurjind Mann was also working on a biopic of Chamkila. We reached out to him and asked him about the progress on his film and he said, "Right now we are not working on it, but we have got the rights and permission to make a film on his life."
Gurjind Mann is currently working on another project, which he will announce shortly. Surprisingly, Chamkila's son Jaiman objected when there were rumors of Babbu Mann working on Chamkila's biopic. He wanted the team to contact him and for that, he took to social media to pass on his message to Maan.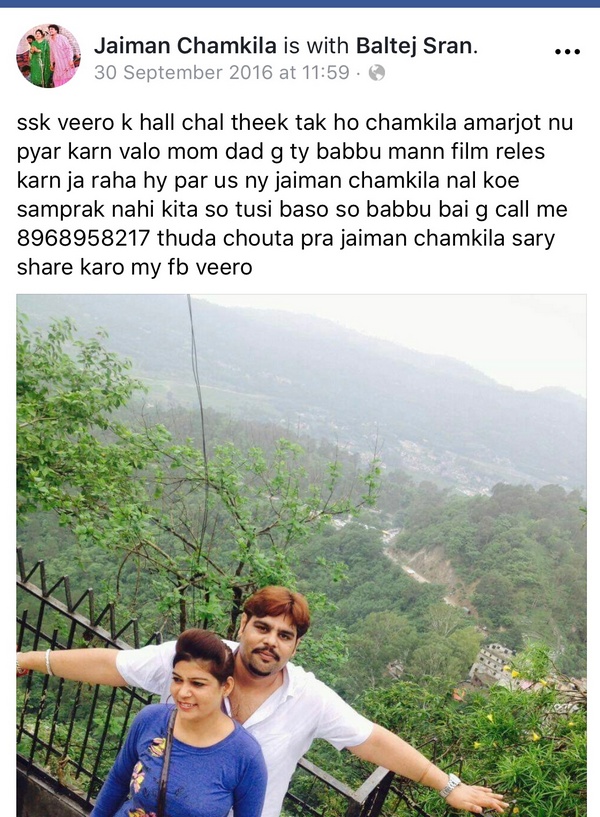 But forget about going on the floor, that film got shelved even before it's official announcement. So does this mean that the others had taken prior permission from Jaiman??
Also Read: Are Chamkila's Biopics Jinxed?? Here's Our Point Of View, What's Yours?
He was present with Gurjind Mann during the official announcement of the film titled Amar Chamkila so probably he did give this maker a go ahead. Anyways, it is worth mentioning that one of the first attempts on Chamkila's biopic was done by Deepa Rai, and his film is almost complete, but there is no further development on it. Even Rai took permission from Chamkila's family to make the film. Around the same time, Anurag Kashyap wanted to make a Hindi film with Kunal Kapoor as Chamkila. In between this development, even a documentary (Directed by Gunjit Chopra) was being made on him but even this one could not release on any format.

Around one and a half year back, Amberdeep announced his next project Jodi, and the way he described it in words, many believed it to be a film based on Chamkila's life. But now as Diljit Dosanjh and Amrinder Gill are part of the film called Jodi which is written by Amberdeep, things got more confusing. Is this newly announced Jodi a different film or they've planned to keep the title of the project that Amberdeep had announced long back. Speculations are afloat that film Jodi (the newly announced one) though will not be based on the controversial singer's life, but there will be some elements of his life in it.
Though Chamkila's biopics are yet to release, a biopic on another legend Kuldeep Manak has already been announced.
---