Popular singer Sona Mohapatra who has a fan following for her unique singing style is also known for speaking her mind. Recently, in a tweet, she shared her thoughts on the ongoing case of fake views and followers on social media. While writing, she slammed Badshah by calling him a 'buyout'!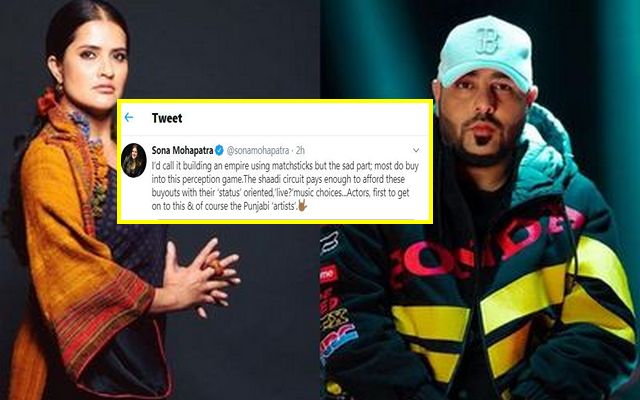 The fake followers racket has tightened the noose around the necks of many big names in Bollywood and the field of sports. While Badshah is being quizzed by Mumbai Police for the last 3 days, many from the industry have shared their thoughts on whether this practice is fair or not.
In her scathing attack on the Indian Hip-Hop artist Badshah, Sona tweeted, "I'd call it building an empire using matchsticks but the sad part; most do buy into this perception game. The shaadi circuit pays enough to afford these buyouts with their 'status' oriented,'live?'music choices...Actors, first to get on to this & of course the Punjabi 'artists."

Clearly, she has specified this trend exists more in Punjabi artists. There, on the other hand, Twitter has been seeing some active threads discussing this topic.
Here are a few tweets from the industry people who have opened a discussion on this topic:
Roach Killa in his recent tweet stated, "We dont buy fake views ... we strictly the power of the fanbase... dont be fooled by millions of views.. its a virtual reality ... let that sink in ..."
Amarjit Dhami tweeted, "It's a horrendous situation, fake it until you make it IS real. Some of the biggest artists (and they're HUGE) are also part of this scam. This sets up the illusion that they're EVEN bigger than they are. But I tell you what, we are genuinely happy with REAL numbers - for real."
DJ Reminisce stated, "Bout time peeps with fake views and shit get put on the chopping block"
Byg Byrd wrote, "Men lie, women lie and NUMBERS do too (all thanks to these wonderful "media companies" who buy all these fake views to inflate the numbers on behalf of the Artist). Some of you need to stop being so delusional." He further said, "General public knows if someone can sing or not. Yet these "singers" continue to release songs (knowing they can't sing) and have fake comments added on YouTube like "omg your voice is so amazing Smiling face with heart-shaped eyes" or "song is on repeat"...like LOL Face with tears of joy who are you guys kidding?"
Gupz Sehra tweeted, "The punjabi music industry is small in comparison to the mainstream market. If the likes of Drake are not getting 5 millon plus views a day, then how is a singer from a small village in Punjab. See-no-evil monkey. I'm happy with my small loyal following."
Also Read: Komilla Wirk: The 'BOLD' Actress Of Hindi-Punjabi Films Who Is Now A Spiritual Astrologer!
The Mumbai Police has claimed that rapper Badshah admitted to having paid Rs. 72 lakh for additional views on one of his music videos in a bid to shatter the viewership record on social media. Though the official statement released by Badshah denied any such allegations but the industry is certainly talking about this scam and Badshah, we're sure is not the only one who's name should be doing rounds.
Speaking to the Mumbai Mirror, Deputy Commissioner of Police, Nandkumar Thakur said that Badshah has confessed about paying Rs. 72 lakh to a company in order to set a world record for the most number of viewers in 24 hours on YouTube. The Indian rapper started his career in 2006 alongside Yo Yo Honey Singh in the latter's hip hop group called Mafia Mundeer.
---